There are different types of kitchen cabinets available in the market currently. Just like other goods, as time goes by, new and unique designs get their entry into the market. This and other factors affect the kitchen cabinet cost. Read on to find out how the quality, type, number, and size of kitchen cabinetry impact price.
Types of Kitchen Cabinets
Traditional Kitchen cabinetry
These are among the cheapest kitchen cabinets available on the market. They have friendly prices suitable for most homeowners. You can get traditional cabinets at a budget of as low as $100 to $300 per linear foot installed. However, as low as the prices are, so is the quality. Therefore, in the long term, they are worth more due to repairing costs.
Frameless
These cabinets have a smooth, slab front. There are usually no handles on the cabinets. However, if you like to add some, the result is usually as sleek. Frameless kitchen cabinets are a good choice for minimalists and tiny spaces. Additionally, frameless cabinets can incorporate a vacant cabinet box for installing appliances such as cookers, fridges, and dishwashers. Basically, a frameless kitchen cabinet cost around $5,000 to $15,000.
Bold colored kitchen cabinetry
Alternatively, if you are running on a low budget, you can spruce up your kitchen by simply painting already installed cabinets. This will cost somewhere around $100-$175 for each cabinet and drawer front. Hence, a medium kitchen will go for $3,000 to $5,000. The good thing about this is that you can choose any color that you prefer. There is an array of bold colors to choose from ranging from pink to green.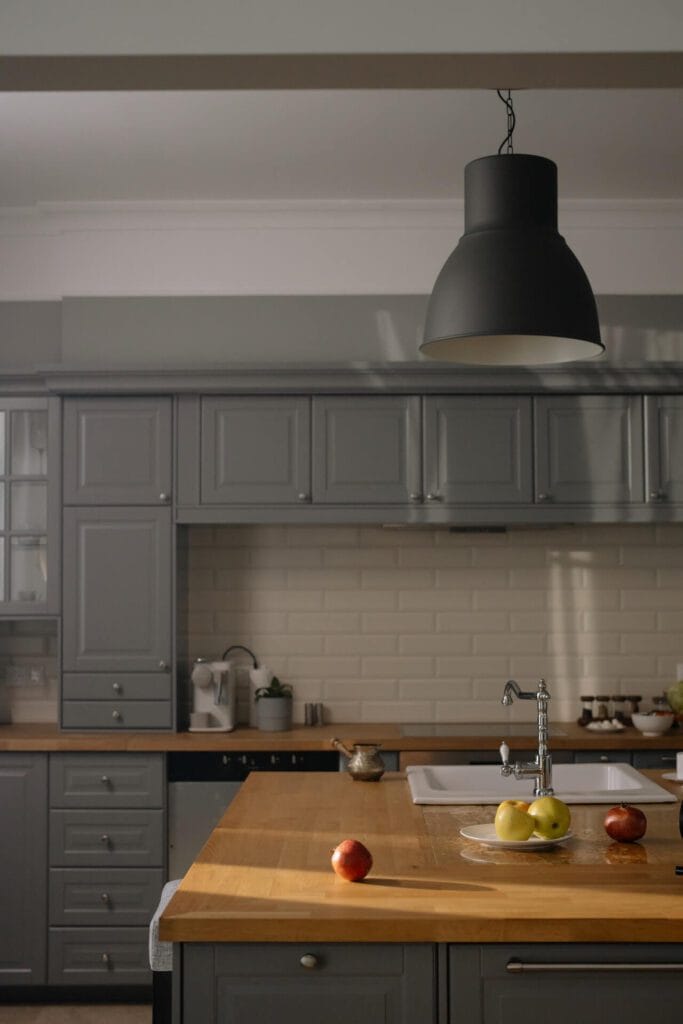 Stock cabinets
These are cabinets that you buy straight from a manufacturer. Therefore, you cannot add a personal touch to stock cabinets. These off-the-shelf kitchen cabinets are cheap depending on the store you buy from. For instance, you can find complete cabinetry at IKEA for only $10,000. But, this price may increase if you hire a contractor for installation. Labour generally costs $4,000 to $7,000.
Semi-custom cabinets
These fall between stock and custom kitchen cabinets. As the name suggests, there is room for minute changes to these cabinets. For example, you are at liberty to choose the size you want for your cabinets. The manufacturer will include the changes you point out when designing your cabinets. Per linear foot, these cabinets cost between $100 and $650.
Custom kitchen cabinets
These give a lavish touch to your kitchen and are the most expensive compared to other types. For the high price, you get to fully personalize your cabinetry. There are endless design ideas that you can pick from to suit your taste. You can spend as little as $500 and as high as $1,200 for each linear foot for custom-made cabinets. Of course, if you are planning on calling in an expert, then this price increases.
What aspects affect kitchen cabinet cost?
There are several factors that will impact the cost of installing kitchen cabinets. Let's look at the top factors below.
Size
Obviously, the bigger your kitchen the higher the cost of kitchen cabinets. This is because a bigger kitchen requires more cabinet units than a small one. The cost of a typical 10 inches×10 inches cabinetry ranges from $2,000 to $25,000. On the other hand, a 20 inches×20inches cabinet can cost from $2,500 to $29,000.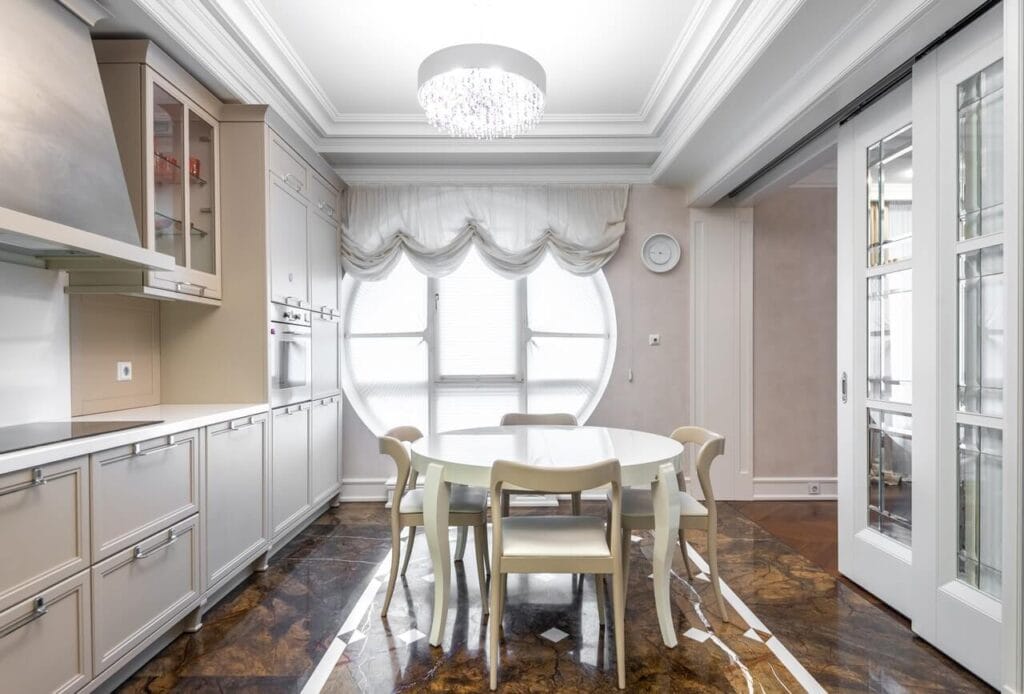 Type
As seen above, the various types of kitchen cabinets have different values. The more posh your kitchen cabinetry is the more expensive it is and vice versa. Traditional cabinets are cheaper than customized ones.
Finishes
The material you choose for your cabinets greatly affects the cabinet's price. For instance, wooden veneers are economical as opposed to marble ones. We will get to this in detail below.
Availability of materials
If the materials you are using are scarce, then the price will be high. Either you or the manufacturer will be forced to import the said materials. This in turn raises the cost of kitchen cabinets.
Labour
Depending on whether you are doing a DIY project on your cabinets or out-sourcing experts, the cost varies. DIY projects are cheap in comparison to hiring professionals. The advantage of bringing in experts is that they are more experienced. And in other cases, you must hire help especially if you are installing appliances such as dishwashers.
How materials affect kitchen cabinet cost
Wood
This is the most common material used for kitchen cabinets. The average cost of wooden cabinets is $2,000 to $15,000. However, this depends on the type of wood you choose. Among the choices you have is Maple, Oak, Rift Oak, Pine, Mahagonny, Cherry Wood, and Alder among others. Basically, Mahagonny is more expensive than say, Maple. Also, the type of wood determines the quality and durability of your cabinets. The more expensive the wood, the more durable it is.
Laminate
Laminate is a material fabricated from melamine resin. A slim layer of this material is then glued to a denser material such as plywood. Laminate cabinets are relatively more affordable than wood with their prices ranging from $5,000 to $8,000. These kinds of cabinets are not as durable. But, they are imporous hence water and heat resistant. Plus, replacing laminate tops is easy as gluing a sheet of the same.
Stainless steel
Since steel is made by combining iron and carbon, it is highly durable. Stainless steel not only gives your kitchen a sleek look but also provides sustainability. It is fairly easy to clean steel as it does not stain. With a little maintenance like placing heat mats and coasters before placing hot items on cabinets, stainless steel cabinets can last long. This durability comes at a high cost of between $25,000 and $38,000. Due to this price tag, many households do not choose steel cabinets. However, for those looking forward to reselling their homes, stainless steel is a perfect choice as it will increase the property cost.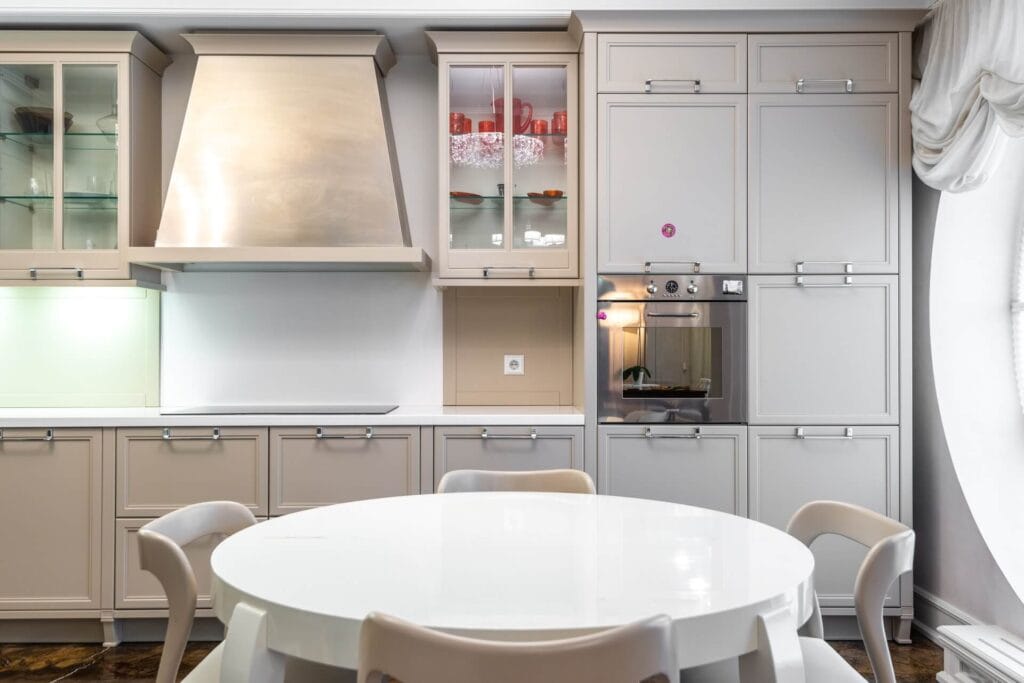 Acrylic
Acrylic is a very versatile plastic substance. This kind of material is mostly added as a finish. Due to its flexibility, it can seamlessly coat different surfaces including metal, stone, and wood. In contrast to varnish, acrylic is more durable. When it comes to cost, acrylic cabinets go for between $5,000 and $20,000. The price variation is mainly dependent on the base substance.
Glass
This is basically used on kitchen doors. Glass is recommended for small kitchens especially because it makes them look bigger. As fragile as glass may sound, you can get tempered glass which has a high degree of breakage resistance. Maintaining glass is simple as it does not stain. With the right cleaning agents and routine, glass can be reasonably durable. The average cost per door is $150 to $250. There are different glass sorts that you can pick. Ranging from V-grooving glass that allows you to add engravings, to leaded glass which gives an antique touch to your cabinets.
Closing remarks
Kitchen cabinets add an appealing look to your kitchen, raise the value of your home and also facilitate the functionality of your kitchen. With so many versatile options in the industry today, you can get one that suits your budget and preference. From wooden, glass, and laminate to acrylic, you can get the best kitchen cabinetry. Not to mention the various designs you can pick such as customized or traditional. For better results, we recommend seeking professional assistance when choosing and installing kitchen cabinets. Experts will add valuable inputs to your project and the good thing is that you can get cheap ones. With the information above, you can decide on your favorable kitchen cabinets effortlessly.