Ultimate White Kitchen Cabinets Design Guide
Kitchen cabinets are a must-have feature within your house. If you want to have a beautiful kitchen, you should consider adding white kitchen cabinets. They are a conversational piece and help set the mood for your home.
Having kitchen cabinets can also increase the open living design. In return, you get to boost the appraisal value of your home and the kitchen decor. White kitchen cabinets add some gleam to your home.
More so, you can paint your current cabinets white to reface the kitchen. Adding white to your kitchen helps reflect more light thus increasing your energy savings. Besides, it makes it seem like you have more space in the kitchen.
Choosing Kitchen Cabinetry
Picking the right kitchen cabinetry will always depend on the color. When you pick white, it's easy to find additional options for the kitchen. Besides, you won't have a hard time determining what everything else in the kitchen will look like.
White compliments most styles and moods within your kitchen. Besides, it can work with all the other components of your kitchen. These components include:
Countertops
Hardware
Appliances
Paint colors
Before settling with white kitchen cabinets, you need to be certain that you are comfortable seeing them every day. Finding something that you are comfortable with enables you to have peace of mind.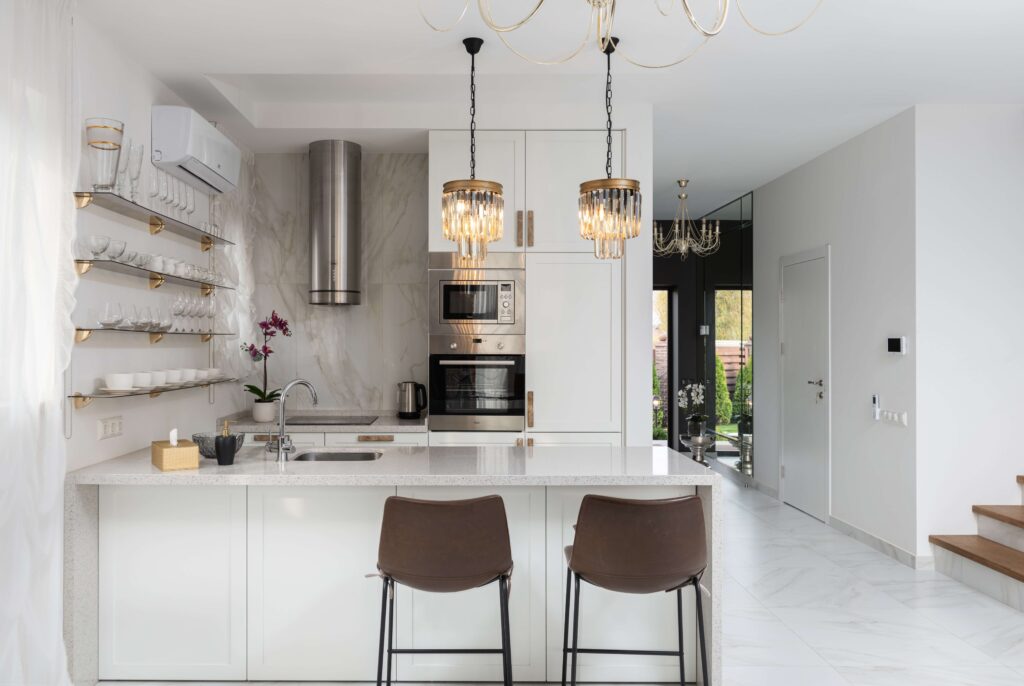 Pros of White Kitchen Cabinets
White kitchen cabinets act as the chameleons in the design world. That's because they match with any look or style. These cabinets can also function as subtle backdrops. With such capabilities, they can highlight the unique kitchen decor.
Having a white kitchen enables you to choose any colors and ensure that nothing clashes. Besides, you can opt for saturated, muted, or bright colors for all your components. The white background will always provide your kitchen with a sophisticated look.
With a white kitchen, you can opt for bronze, nickel, chrome, or bronze hardware. Likewise, you can incorporate different styles to the kitchen and have white cabinetry as the unifying component.
Having white in your kitchen is the same as having a black dress. White is a color that never goes out of style. Other colors, however, will fade with time. With white, this won't be the case because your kitchen can remain fashionable and up to date.
Using white cabinetry can enable your kitchen to withstand time. Nonetheless, it guarantees that your home never ends up dated. More so, white is a simple choice that helps conserve energy within your house.
Even though you are years away from listing your home, you should have the resale value in your mind. Having neutral colors like white in your house can help attract more buyers. Furthermore, it enables them to envision how their ideal home will look like.
Having a white kitchen provides the buyer with a black canvas. White is clean and can help ease the anxiety of the buyer. Likewise, if the buyer doesn't like the color, they can easily repaint everything to their liking.
If you want to make your kitchen look larger, use white cabinetry. Besides saving energy, white enables you to create an illusion with your entire kitchen. Furthermore, investing in cabinetry won't be an expensive way of making the kitchen seem bigger.
Cons of White Kitchen Cabinets
White kitchen cabinetry gets dirty quickly. Upon installation, everything in your kitchen will appear crisp and clean. However, they can't hide grime like the darker cabinets. If the kitchen is predominantly white, you might end up finding dust and dirt.
More so, because the kitchen is the main gathering spot, you will notice that it tends to get dirtier quicker. Therefore, having white cabinetry will require you to frequently clean the kitchen. This can be a tiresome process for anyone who already has a busy schedule.
As the house ages, your cabinets can show wear and tear upon constant use. With white cabinetry, it's easy to see the scratches, scuffs, and nicks. The material of cabinetry you pick can also end up yellowing with time.
The yellowing can lead to inconsistencies of the different white finishes within the house. Opting for a darker cabinet color can easily hide some of these issues. Furthermore, having white cabinetry can make your kitchen have a utilitarian, clinical feel.
To avoid this, you shouldn't have too much white in the kitchen. Consider adding other colors to make your kitchen warm. However, even though white cabinetry is ideal for its variety, you should avoid having lots of different colors.
Choosing a Color Tone
White kitchen cabinets never go out of style. They provide your home with a classic feel and make it seem clean. However, maintaining the cabinets can be a bit hard because it can require lots of cleaning.
To negate this, you can mix your cabinetry with grey or brown colors for the countertops and other components. Using grey provides your kitchen with some dark tones. Other additional dark tones to consider for the kitchen components will include: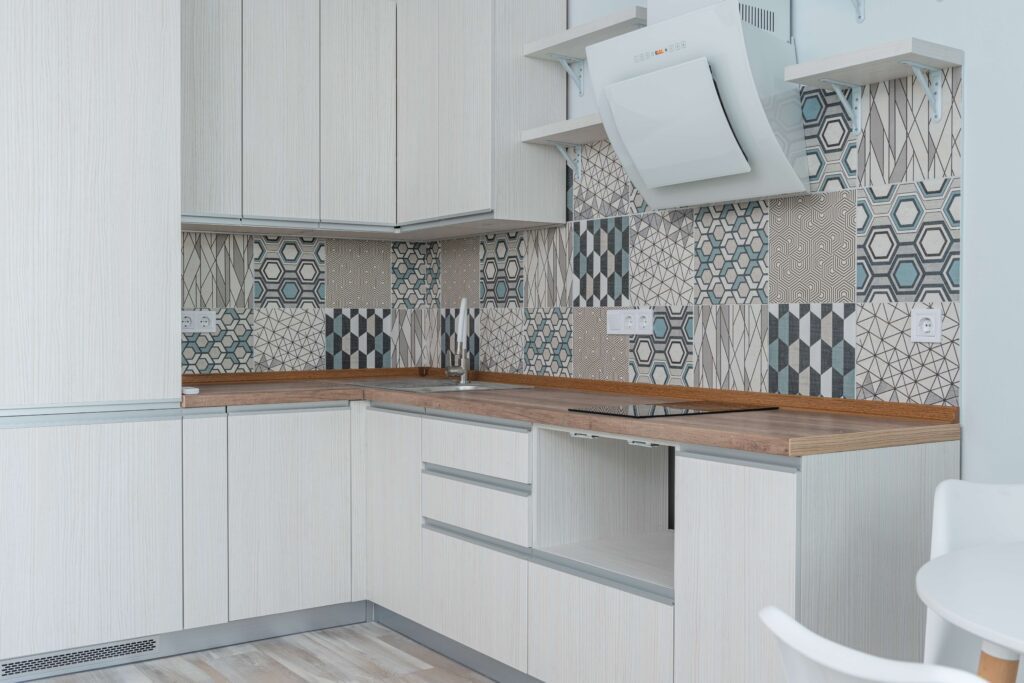 Choosing the Cabinet System
Currently, you should consider decluttering and minimalism. Coupling these designs with white cabinetry can get you an efficient and stylish kitchen. Having such a kitchen will offer the best of both worlds.
That is the best functionality and unique style. Having conventional kitchen cabinetry can eliminate the functionality of the kitchen. However, having a minimalistic kitchen makes it easier for you to fit appliances and hide any clutter.
Furthermore, it'll be easy for you to hide smart appliances within the kitchen. Doing so can help you increase the space and allow you to work with unique countertop options.
Kitchen Lighting Options
Installing lights under your white cabinetry can help brighten the kitchen at night. Furthermore, it enables you to blend in the lighting with the cabinets. You should consider using some LED lights for the kitchen.
More so, you can seek for some that you can adjust their brightness. This can help you set the mood within the kitchen. Besides, it can make the kitchen the best gathering spot within the house. Installing the light fixtures under the cabinets can provide an elegant mood.
Types of Kitchen Cabinets
Shaker Style
The most common style that you should consider for white cabinetry is the shaker style. It's popular due to its classic and simple look which can offer a contemporary or traditional design. These cabinets have rail frames and flat paneled doors.
Most of these cabinets use high-quality wood like quartersawn oak, hickory, maple, and cherry.
Louvered Cabinets
Louvered kitchen cabinets are also another ideal option for white cabinetry. That's because of their horizontal wooden slats. These cabinets can end up being expensive because of their unique style.
These cabinets are ideal if your kitchen requires some ventilation. That's because they have spaces between each slat.
Flat Panel Cabinets
For a minimalist kitchen, you can consider flat panel kitchen cabinets. They offer a simple and stylish look like the shaker-style cabinets. More so, they don't have lots of expensive details. These cabinets will work great in modern and contemporary kitchens.
Flat-panel cabinets also provide you with different construction methods. However, the slab doors are the only consistent feature. That's because they don't have any frames.
Distressed Cabinets
If you want an antique kitchen style, distressed cabinets will do the trick. They are available from most manufacturers and provide you with an old feel. Likewise, these cabinets have unique door cornets and can be ideal when you want to increase the value of your home.
Thermofoil Cabinets
These cabinets are made out of MDF. They aren't the best quality cabinets because the MDF can bulge up once it becomes moist. Most manufacturers negate this by wrapping the cabinets with a plastic coating. The advantage of these cabinets is that you can opt for a solid color like white.
Choosing the Best Countertop
Picking the right countertop is another requirement for a great white kitchen. Before picking any countertop, you will need to consider whether it is a good fit. For a white kitchen, you will find an array of color options that will blend with the cabinets. Nonetheless, you should avoid picking white granite because your kitchen might end up having too much white.
On the other hand, you have to consider the different kitchen countertop choices. Doing so guarantees that you can pick a solution that you are comfortable with. Nonetheless, you get to know about the best quality materials for the countertop. The internet is the best place to find any information that you would like about these countertop choices.
Looking through sites like Pinterest can help understand how your kitchen will end up looking like. Besides, you can check different kitchen showrooms to have an idea of whether the preferred white cabinetry will work with the countertop of your choice. Granite is one of the best materials you can consider when selecting a countertop.
You can as well opt for other natural stone materials like marble, soapstone, and limestone if you want the kitchen to have a unique look.
Contact Us for More Information