Top 10 Basement Bathroom Remodel Ideas
You've come to the perfect place if you're seeking an amazing basement bathroom idea. It might be difficult to know where to start when remodeling. You can remodel any new area for a washroom, family bathroom, or an en suite for a basement bedroom.
With our advice, trends, and ideas, you'll be able to transform your basement building project into a luxurious area for relaxation. We've covered everything so you can start planning your new spectacular basement bathroom space:
1. Ceramic Tile In A Wetroom
Is there a more opulent experience than a wet room? To create the perfect showering experience, combine a flush showering tray together with a matte or any slip-resistant tiles having a realistic marble effect.
This bathroom can take things a step further by including a standalone bath with ceiling speakers, allowing you to kick back and relax away from it all.
2. Use Unique Basement Spaces To Create A Unique Bathroom
If you're working with a sloping site or low ceilings in the basement, embracing the unique aspects of the area could make your new bathroom even more remarkable.
In such a magnificent, modern bathroom, a shift in floor level and an inventive shower recess — with built-in storage — design maximizes the available space and produces a bespoke finish.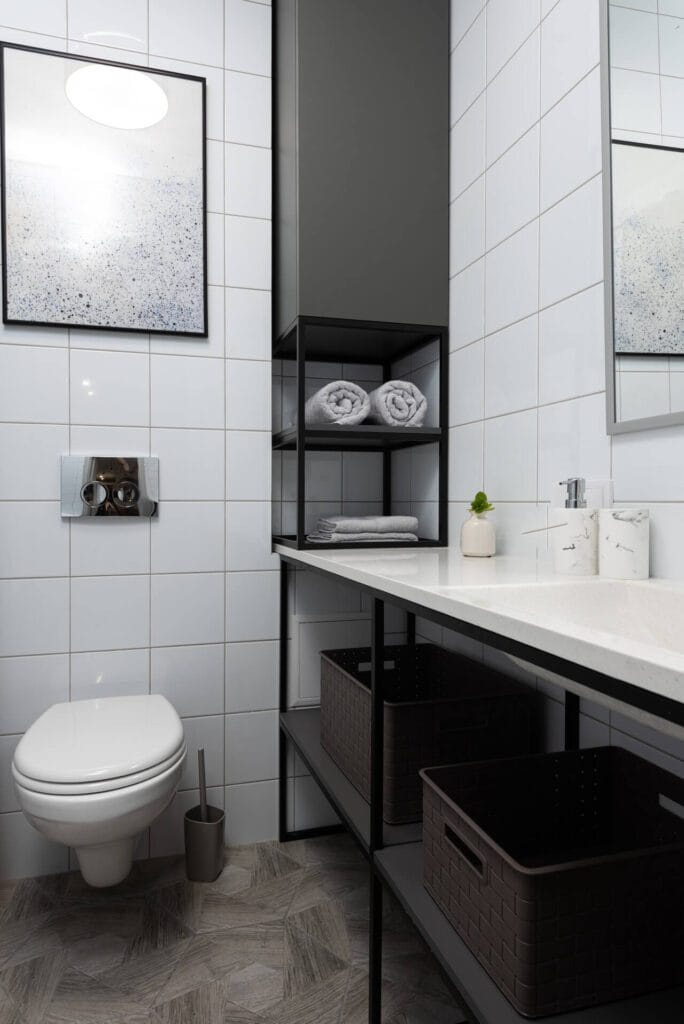 3. Keep In Mind That Good Lighting Is Essential
When designing bathroom lighting, keep the three necessities in mind: task, ambient, and accent lighting.
Recessed downlights in the ceiling can provide general (ambient) lighting. Accent lighting, such as LED strips or wall sconces, completes any area by spotlighting interesting objects or photographs.
4. Build A light Well
Whenever possible, installing a glazed light well to the outside of your bathroom is always worthwhile.
Basement bathrooms, by definition, lack natural light. And anything you can do to avoid feeling cramped or claustrophobic will bring you one step closer to your dream room.
5. Reference The Natural Elements
A basement finish with little natural light can feel isolated from the outer world. So incorporating links to the great outdoors wherever possible is crucial.
Natural stone tiles, wood vanity cabinets, and even a natural clay wall finish are all excellent ways to connect a bathroom basement to nature.
6. Configure Walk-On Roof Lights
Consider putting walk-on roof lights above the basement as a fantastic way to ensure natural light can enter the room from above.
It's a wonderful option for completely subterranean environments. But keep privacy in mind – consider their position carefully and make sure the glass is impenetrable.
7. Make The Bath The Center Of Attention
Without a question, free-standing baths are one of the most stunning things to consider when constructing a new bathroom.
Placing the tub at the center of the floor as well as adding LED wall panels, not only creates a beautiful finish inspired by boutique hotels but also makes bath time enjoyable for small children.
However, make sure you select an appropriate flooring for the splash zone.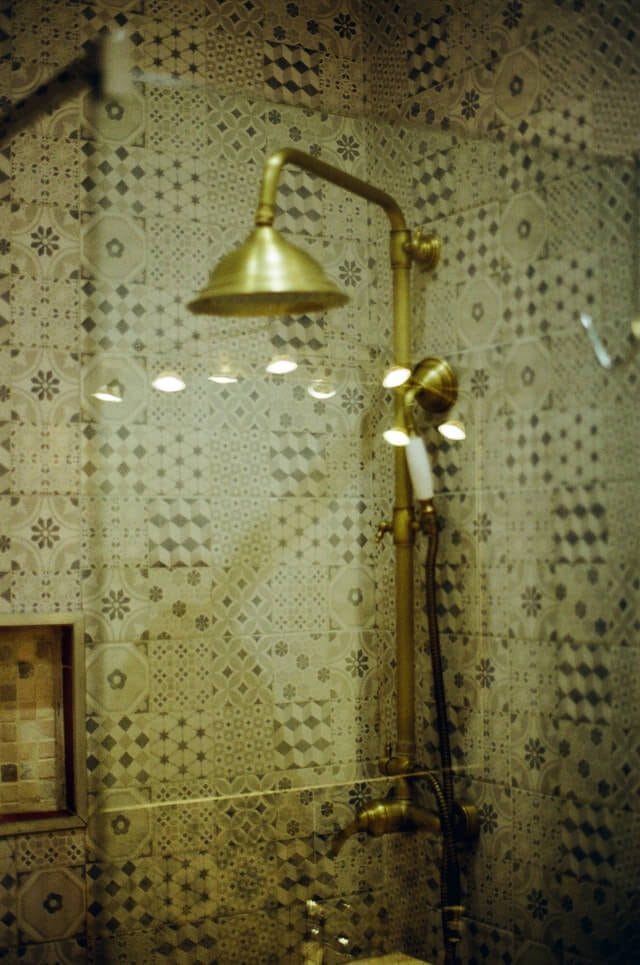 8. Be Creative With Your Lighting
Planning lighting with your architect or electrician ahead of time for your basement project can result in some spectacular results. As a lit-up bathroom demonstrates, recessing an LED strip into a shadow gap before adding the finishing touches may create a stunning splash of light.
9. Light And Dark Contrast
A pastel wall tile combined with an on-trend bold wall and industrial-style matte black lighting is a sure-fire method to make a large effect.
10. Build A View With A Feature Wall
A magnificent monochromatic bathroom is a lesson in refinement and timeless taste. Keep your sanitary ware basic and splurge out on a mural or striking wallpaper to transport you to another world in your new subterranean home.
HOW MUCH DOES A BATHROOM IN THE BASEMENT COST?
Basement bathroom remodeling cost starts from $8,000 and goes up to $35,000 depending on the size of the space and the quality of the material used. The more complicated answer is — it depends on the features you want available in your basement bathroom. Waterproofing is essential in any basement bathroom so that has to be taken into account. Other charges may include installation and decoration charges.
How Do I Construct A New Basement Bathroom?
There are additional logistics to consider, such as how to install a new basement bathroom.
Plumbing is one of the most difficult components of designing a basement bathroom. Therefore, situating the plan adjacent to the existing plumbing above will lower expenses slightly. This is because extending the water lines to create additional hot and cold water taps is naturally less expensive than routing new ones.
Do You Require A Special Basement Toilet?
Yes, a separate or unique toilet may be required for a basement bathroom.
While placing a standard toilet in certain basement bathrooms is possible, if your area is located below the sewage lines, and up flush (also known as a macerating) toilet would be more appropriate.
Whereas a standard toilet discharges into the soil stack, up flush units discharge into a tank (which may be disguised behind the drywall). Here waste is crushed up before being routed towards the stack, allowing these toilets to be fitted almost any place.
How Should A Basement Bathroom Be Decorated?
When the building and waterproofing are finished, it's time to consider how to design a basement bathroom.
The design can be comparable to any other bathroom. But you may wish to compensate for the lack of natural light by putting enormous mirrors, roof lights, or even little courtyards outside the basement. This makes your bathroom look and feels the way you want it to.
How Should A Basement Bathroom Be Lit Up?
Because underground rooms will be gloomy, it's critical to consider the basement bathroom idea involving lights.
Downlights can be used to offer ambient lighting, and wall lights on each side of a mirror can be used to provide task illumination. Consider creating your layers with a mid-level of light. This can be downlights in recesses, uplights behind a bath, or floor washers – by combining the layers, you obtain a nice sense of overall light.