Kitchen Upgrades — Are They Worth It in 2022?
Kitchen design has progressed from the rear rooms to the front and center of a home. These areas are now a source of beauty, ergonomics, and life itself! It's no surprise that such an important aspect of interior design is regularly upgraded and revamped. Kitchen trends in 2022 are expected to be even more streamlined, greener, and convenient and that is why we will discuss if the kitchen upgrades are still worth it in 2022.
Because the kitchen is the heart of the home, it should be built to serve numerous purposes. While it may appear that following kitchen upgrade trends are a transient endeavor, in the case of kitchen design, they frequently outlive their time.
There are plenty of on-trend kitchen upgrade styles and state-of-the-art appliances to choose from.
When it's time to redesign your kitchen, you'll want to be sure you're using the proper designs. Rather than following in the footsteps of obsolete renovation trends, why not try something new and exciting? Here are some of the biggest design ideas in kitchen remodels in 2022 that you should pay attention to according to our site.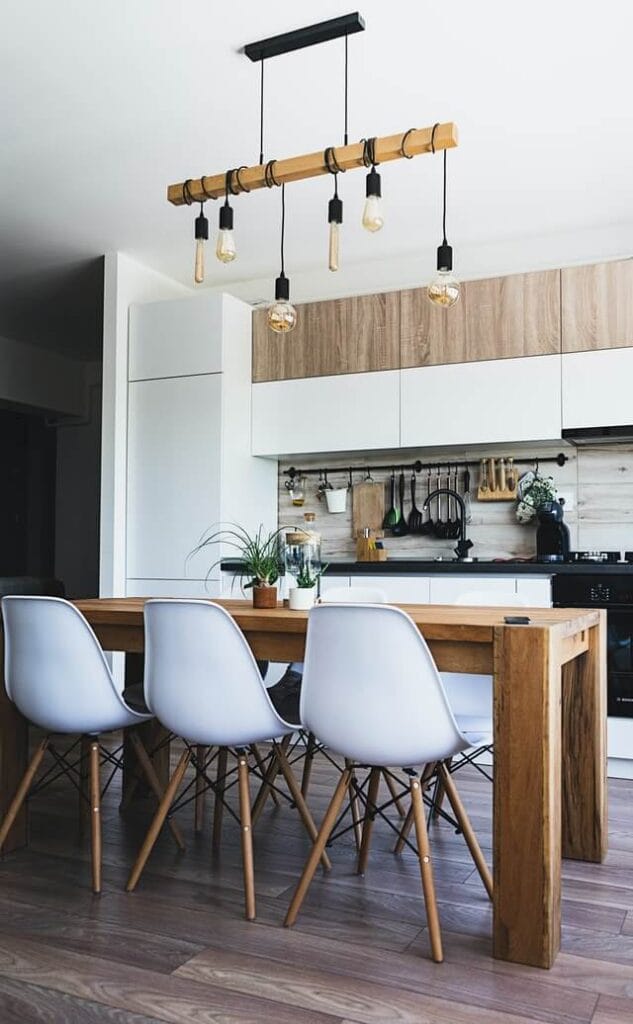 Types of Kitchen upgrades
There are several kitchen renovation options available, but which are truly worth your time and investment?
Ask a realtor this year, and they will tell you that the real estate market has gone utterly insane. The houses are selling fast like hotcakes and at premiums, thanks to low mortgage rates and a growing awareness of the value of "home" as we all spend more time there. Improving your living space or selling it has been on everyone's mind, but so has the burning question: Is a kitchen upgrade worth it?
The kitchen is the heart of the home, and many realtors believe it is the deal-maker or deal-breaker for prospective buyers. If you're thinking about selling, consider investing in kitchen upgrades. But, with so many options, how do you know you're not generating noise in an empty room?
According to realtors, interior designers, and contractors that were surveyed, these are the top upgrades to consider during a kitchen upgrade:
Practical Flooring
When we go house looking, one of the first things we look at is the kitchen footprint. The most common floor type encountered is the tile. Tile is the finest choice for both durability and cost. You won't have to replace the tile unless you start to dislike it! Many homeowners believe that the higher expense of moisture-resistant porcelain is worth the upgrade from ceramic.
Luxury vinyl plank (LVP) is a practical waterproof choice that is becoming increasingly popular if you like something warmer underfoot. This alternative material can mimic the look and feel of hardwood without the original material's risk of warping and damage from spills and humidity.
Installing a Kitchen Island
There's something about an island kitchen that makes you want to stay awhile. It's no wonder, therefore, that a multi-purpose island is one of the most often requested features. This is the way to go if you want additional surface space or sitting places.
Power outlets can also be discretely disguised within the island, behind, or even within them as pop-ups, increasing usage versatility. Including storage and stools for extra seating, as well as electrical outlets, is now frequently a must-have feature.
Taking down a wall and replacing it with an island is also an excellent way to increase start your upgrade. Taking down obstructing walls offers the sense of additional space, enhancing the overall image of the kitchen.
Lighter Countertops
Islands are also a great opportunity to show off magnificent countertops, which are a huge selling point when it comes to enticing your home visitors. Waterfall countertops with mitered edges, for example, may provide drama while maintaining a clean, minimalistic, modern vibe.
Weathered countertops are popular among tactile people who like texture and dimension over standard gloss. Swirled stones can also give movement, while speckled ones can offer depth. However, lighter is the look you should be aiming for.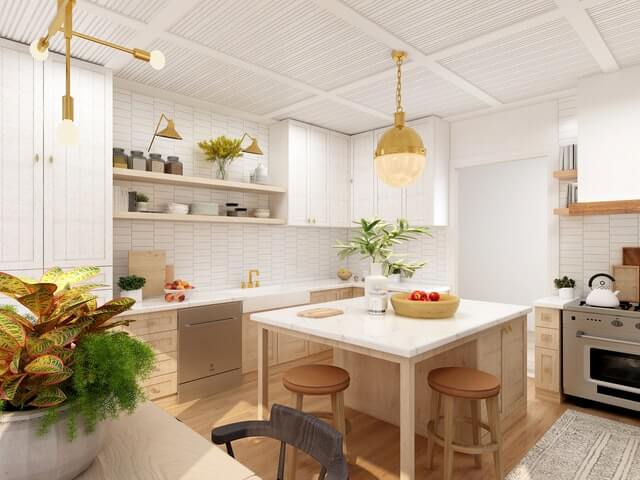 Elevated Cabinets
Cabinets are one of the most expensive parts of a well-designed kitchen, but they are also an important aspect of its practicality and visual appeal. Minor elements, like new knobs and pulls and crown molding finishing at the top of the cabinets, make a big impact here.
These purely cosmetic touches add refinement and value to your kitchen without having to change anything. Repainting them is the next level of recommitment to your cabinets, and while it is an expensive investment, it is still less expensive than a tear-down start-over.
Stainless Steel Appliances
The stainless appearance was launched by Thermador in the 1950s, but it wasn't widely available and affordable to normal people until roughly 15 to 20 years ago. Since then, the chef's ascension in mainstream culture has transformed a passing fad into a permanent fixture.
Stainless steel appliances are always valuable, especially when they are name-brand or of professional grade. A chef's kitchen with a stainless steel six-burner range is always a good choice!
The Value Kitchen Upgrades Add To A House.
When you upgrade your kitchen, you are giving your old and antique kitchen structure new life and vitality. Aside from that, kitchen remodeling may significantly improve the structural integrity of your property. Kitchens are subjected to a great degree of wear and tear due to the presence of oil, grease, and other contaminants. Fixing these damages, on the other hand, is extremely tough. As a result, there is a servicing advantage to remodeling the kitchen. Not to mention, it will improve the aesthetic value of your home.
If you're doing a modern kitchen renovation in order to sell your house on the market, you're making a smart move, because buyers are more eager to purchase when they notice functional upgrades in the property.
In addition, 80 percent of market purchasers regard a recently finished kitchen to be one of the influencing aspects in selecting and valuing a house.
So far, the industry normal ROI for a mid-range kitchen makeover is between 50 and 60 percent of your total renovation investment. For example, if you spent $69,000 remodeling your kitchen, you may expect to recuperate between $34,500 and $41,400.
Meanwhile, if you choose a modest kitchen update, your expected ROI will be 75 to 80 percent. For example, if you spend $24,000, your recoup will be between $16,800 and $19,200.
When it comes time to sell your house, many kitchen renovations pay for themselves or come close to doing so. Buyers have shown a readiness to pay a premium for homes with appealing and modern kitchen designs. If you're cooking in an older kitchen, you're probably spending a lot of time since you're utilizing antiquated technology. A kitchen remodel might cut down on the time it takes you to prepare meals, enabling you to spend more time with your family.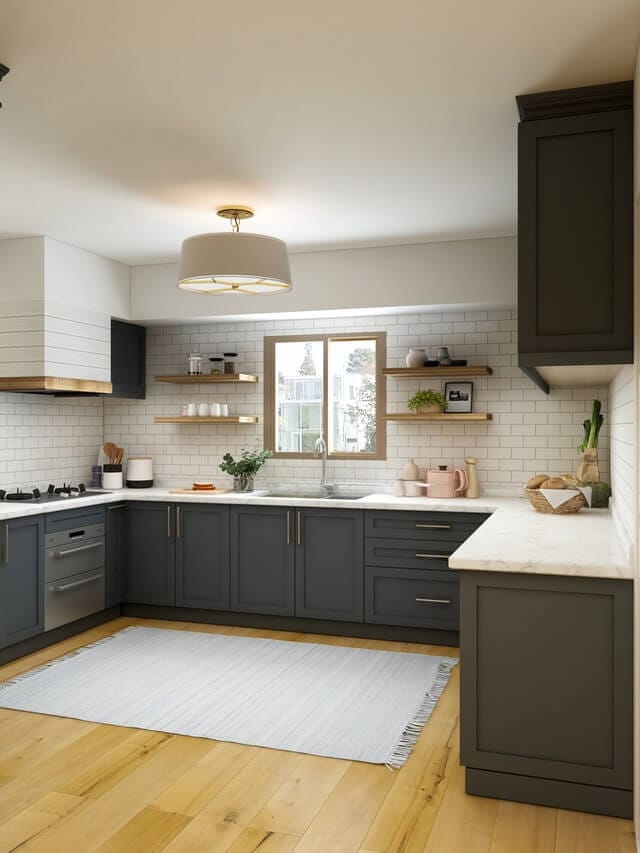 The ROI on Kitchen Upgrades
When it comes to renovating your kitchen, think outside the box. If you decide to sell, new home purchasers will enjoy the improvements. A remodeled kitchen will increase the value of your property and increase its resale value. The average cost of a kitchen remodel is currently between $12,567 and $34,962. A simple kitchen redesign can cost as low as $4,000, while a large kitchen remodel might cost $50,000.
According to the Remodeling Magazine, a minor kitchen renovation ROI is greatest in the Pacific area (California, Hawaii, Washington, Oregon, and Alaska), at 92.9 percent, based on an average kitchen remodel cost of $23,587 and an average recouped the cost of $22,181. The South Atlantic area including Virginia, Maryland, and Washington DC has also a decent ROI rate of 72.2%. That's based on a $25,264 average renovation cost and a $17,627 average recouped cost. The typical ROI for a small kitchen makeover in the remainder of the United States is between 65 and 83.8 percent.
If you consider the recent surge in house prices in areas like Fairfax, VA, and Reston, VA ROI in kitchen remodeling becomes more appealing. Our designers estimate that the return of investment on a kitchen remodel in Northern Virginia is around 82%.
Conclusion
For homeowners, kitchen remodels have a proven track record of providing a high return on investment. Consult your real estate agent to see whether recent the kitchen remodel ROI in your region justifies a kitchen redesign. Check the comparisons yourself if you're selling on your own. Running these statistics might assist you in determining your budget and determining how much you should really spend on the makeover. Because you're competing with brand-new kitchens in a hot real estate market with a lot of new construction homes, a larger makeover can be worth it. Also, if you leave your antiquated kitchen alone, you may receive lesser bids.
You'll have to refinance or take out a home equity line of credit to pay for the improvements unless you have the cash on hand. This will reduce the profit at closing. So, as you consider your payment option, be sure the project still makes financial sense.
It's simple to compare your house to the latest and greatest in kitchen trends when you have access to hundreds of online property listings. However, this does not imply that every buyer expects a brand-new kitchen. If you're preparing to sell, having a brand-new (or almost brand-new) kitchen on the market can help you attract a larger pool of buyers and, perhaps, a better sale price. The average return on a kitchen redesign varies significantly depending on the geography, local market, and extent of the remodeling. The Cost vs. Value Report 2018 from Remodeling magazine breaks down the average home sale return by location and extent of improvement on their site https://www.remodeling.hw.net/cost-vs-value/2021/.