Showers are a vital component of our houses. They are frequently used and fulfill a variety of functions. Everyone wants their bathroom to be both functional and attractive. They want to be able to prepare for their day while also being able to relax and enjoy it. The shower room is now more significant than ever before in the bathroom area. Many people are moving toward shower remodel ideas because they want the best showering experience possible. Furthermore, showers are important to home renovation areas that attract purchasers when you go to sell your house.
Shower Remodel Ideas
Shower design might look simple but as you go down the road you will realize that there are multiple options and variations. It can get frustrating really quickly, to save you some time and provide some perspective for your next bathroom remodel project, we curated a list of shower remodel ideas for you.
Tiled shower
Custom constructed tile showers are gaining popularity as an alternative to prefabricated shower enclosures since they can create such a wonderful ambiance. Mediterranean-style tiles can add a sense of elegance to your bathroom. Accent tiles with a glitzy or metallic finish are trending right now, as are fun ceramic tile forms and mosaic tile designs. It creates a gorgeous aesthetic while also providing protection for your floor, ceiling, and even walls. In addition, it can be used in a small bathroom as well.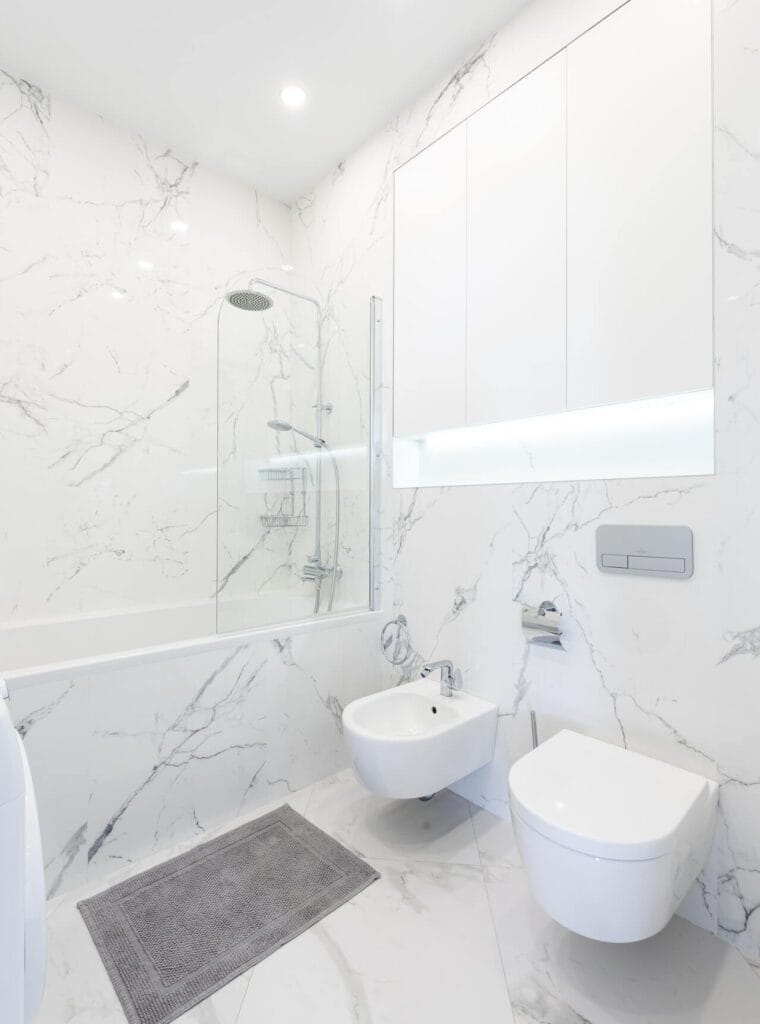 Seated shower
By adding a seat to the shower, you may sit back and relax while the water washes over you. It's also useful for shaving legs. Another bathroom shower option that aids with aging in place is this one. Experts actually advocate this method for geriatric care. I particularly appreciate the built-in storage area in this shower, which provides a convenient location for all of your shower essentials.
Shower sound technology
We've all heard of singing in the shower, but now you can do it while listening to music through speakers! A sound system can help you create the perfect relaxing atmosphere in your bathroom makeover designs. Showerheads with a built-in wireless speaker that delivers your customized music playlists and syncs with Bluetooth-enabled devices are also available. Furthermore, it may also be connected to a built-in TV, allowing you to catch up on your favorite shows or watch a movie while taking a relaxing bath.
Plants in shower
Including a plant-friendly location in your bathroom design ideas is very unique and important. Toxins can be removed from the air by plants, making your bathroom cleaner and healthier. A bathroom's high humidity level can provide the ideal environment for a plant to thrive. If you're concerned about introducing plants to a windowless bathroom, there are a variety of plants that thrive in low light.
Glass Shower Door
It is the hottest trend in shower designs right now. They let in so much natural light and there is also no shower curtain obscuring the view or distracting from the decor. The shower area becomes a lovely focal point thanks to the glass shower door, which eliminates the need for a shower curtain and does not block anything out. After all, seeing the dark oak floor tiles contrasted against the marbled white shower tiles is a striking sight.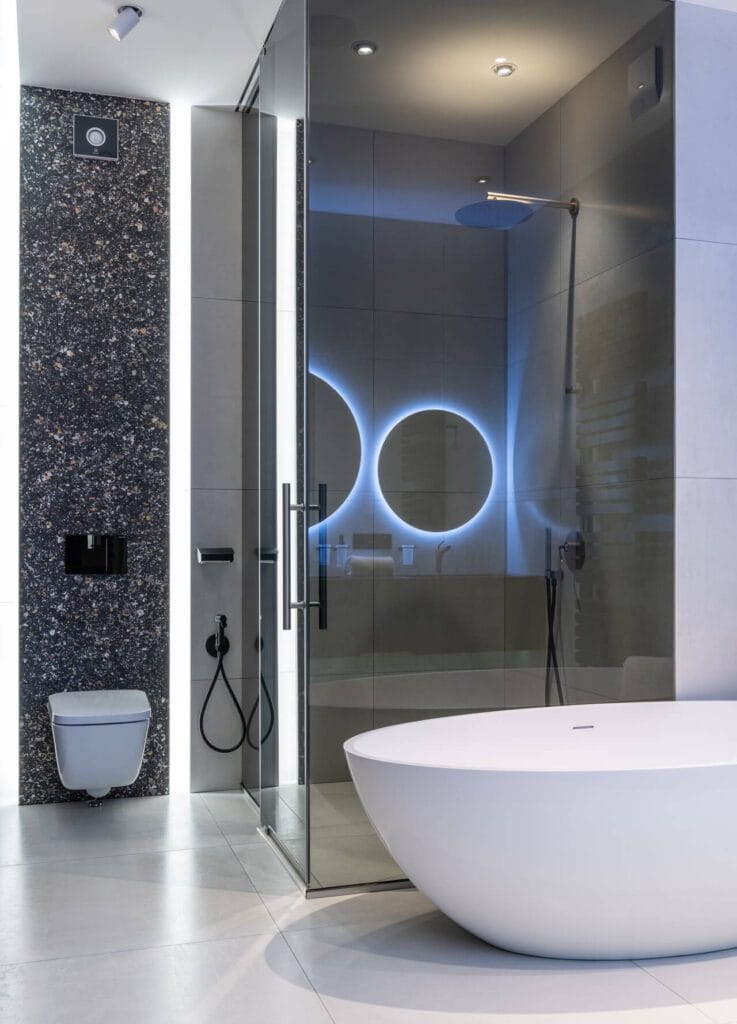 Radiant Heat Flooring
Installing heated floors may be the answer if your feet despise the icy shock of stepping on a cold tile bathroom floor. With a radiant floor heating kit, you can even do it yourself. Under tile, stone, and attached hardwood floors, the heated grid material can be put. Set the heat to your preferred temperature using the provided thermostat.
Luxury Showerhead
A simple method to update the aesthetic of a shower is to replace an old shower fixture with a beautiful shower head. Imagine waking up to this brushed gold square shower head's flowing, full-bodied rain effect every morning is just like living the dream.
Hanging artwork
One approach to making your house decor stand out is to hang artwork. When it comes to bathroom remodeling, the same is true. Hang some artwork on the walls to add to the space's visual appeal and to give you something to look at while you're working. With phrases like "wash your hands," can be a great addition to a restroom.
Mounted Towel Warmers
After a hot shower, take a warm towel from this wall-mounted towel warmer to keep yourself toasty. The stainless steel rack can hold up to two towels or bathrobes and warms them up in just 10 to 15 minutes. This towel warmer will not only keep you warm when you get out of the shower, but it will also keep your towels smelling fresh and not musty. If you have not experienced this it might sound unnecessary, but if you even used a towel warmer once, you will surely add it to your list of shower remodel ideas.
Toilet Paper Display
A toilet paper display is a fun and functional makeover concept that may bring a little levity to a bathroom. This piece can help you reach your aims and add some character to your newly designed room, whether you're looking for a comprehensive bathroom renovation or want to make a few minor but dramatic remodeling adjustments on a budget.
Lighting
Instead of relying on the bathroom's primary overhead light, it's becoming fashionable to install light fixtures in the shower. This is a common idea that can be implemented in a variety of creative ways to get your lighting exactly perfect or to add a little something to your decor. In today's world, mood lighting is one of the most popular shower lighting options.
It entails installing dimmable light fixtures in the shower. Installing a dimmer switch will hwlp you to adjust the brightness of the lights for tasks like getting dressed or applying makeup, or decrease them for a soothing bath.
Free standing shower vs bathtub
We will compare a free-standing shower with a traditional bathtub in order to give you an overall idea about these. This will help you decide which one is better for your bathroom.
Free standing showers
Because they appeal to a wide range of individuals, free-standing showers are becoming increasingly popular. If you want to preserve space, a shower cubicle is a better option than a tub. The best method to do so is to order a corner shower stall and shower base online and have the pipes installed by a plumber before the shower is installed.
Following are the benefits that come with a free-standing shower:
The majority of individuals choose freestanding showers for their aesthetic value. It's one-of-a-kind, and it makes a statement that's usually linked with wealth.
Installing a freestanding shower is simple. You'll probably only need a plumber instead of a decorator and a contractor.
Freestanding showers allow you to be more creative with your space. They have a lot of room in the shower area that may be used for a variety of things.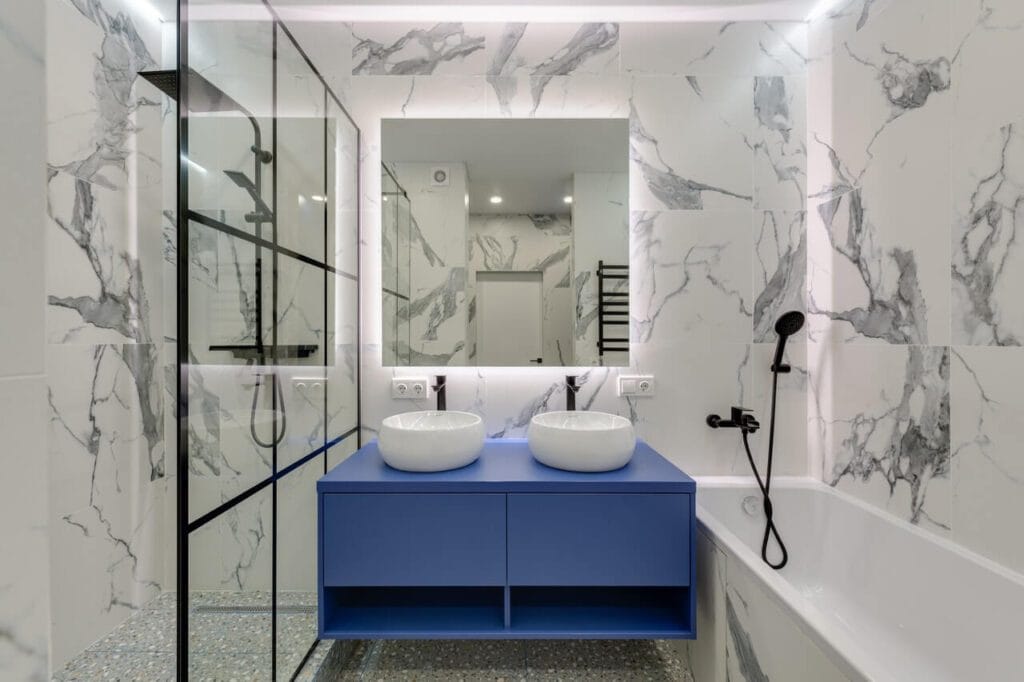 Bathtub
A bathtub can be squeezed into corners or alcoves and is built against the bathroom walls. Tub and shower combos are common built-ins because their design makes it easy to keep the water confined. Because of its convenience and appropriateness, the built-in bathtub remains a popular choice among many people. Bathtubs come in a variety of styles, providing you with a lot of options to choose from based on your family's needs.
Following are the benefits that a bathtub provides:
Bathtubs offer a tremendous degree of color choice. Changing the color of your bathtub is crucial for bringing contrasting colors into your bathroom and giving it fresh life.
Because of its design, the most challenging part of the installation is simply transporting and positioning the bathtub.
A bathtub will assist families with small children the most, as it is beneficial to both the youngsters and the parents. Because children are unable to utilize showers or anything tall, bathtubs are an excellent way for parents to assist their children while bathing.
Both are best in their own nature. However, it depends on your attitude as to which one will you be choosing for your bathroom shower remodeling. We provided some shower remodel ideas for you in this article and now the decision is yours to make. You have to decide the idea depending on what will look best in your bathroom.