Guide to Wood Kitchen Cabinet Types
Elegant cabinetry can make any property appear to be worth a million dollars. If a kitchen has beautiful storage doors, there's no telling what additional intricate interior beauty can be found around the home. Because cabinets play such an important role in shaping the personality of a kitchen, it's critical to select the perfect style for your space. That is why we will cover the wood kitchen cabinet types in this article.
Cabinetry may appear to be somewhat cosmetic in comparison to structural components of any structure. However, because kitchen cabinets account for well over a quarter of a kitchen makeover expenditure, architects and interior designers must conduct an extensive study before specifying this element. Choosing the proper material is arguably the most crucial aspect of selecting cabinets, even more, vital than appearance and practicality.
The wood types you select for your cabinets will substantially alter the looks of your kitchen. External elements like light and chemical exposure can have an effect on the appearance of cabinets over a duration of time.
Keep in mind the location of windows, stovetops, and other plan factors that may affect this type of cabinet coloration in the future. To extend the life of your cabinets, use durable wood kitchen cabinet varieties and apply a high-quality cabinet finish.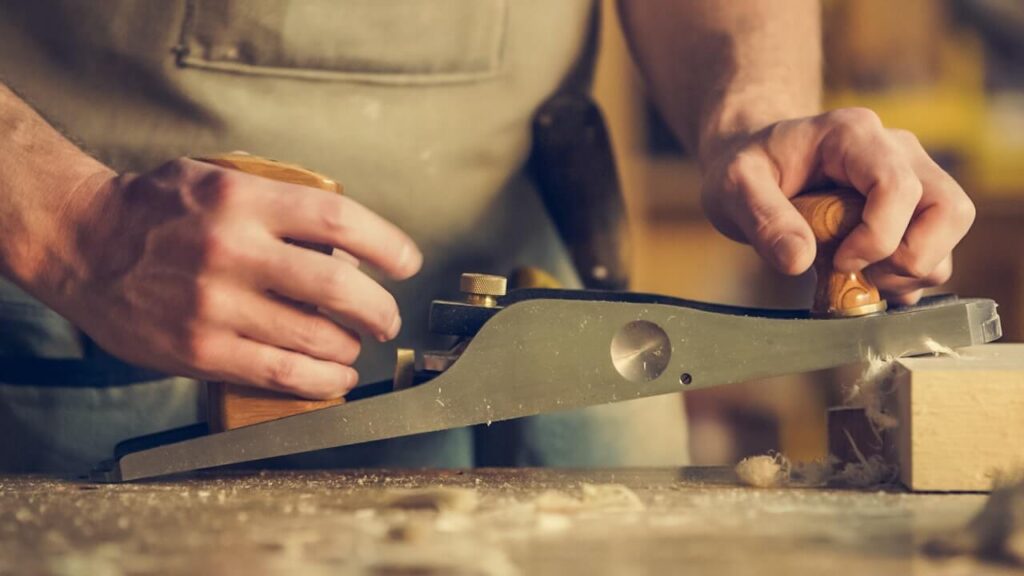 Different Types of Wood Kitchen Cabinets
Quality wood species may extend the life of your kitchen while adding charm with their distinct patterns. There are no two cabinets alike. Natural wood's beauty resides in its one-of-a-kindness. Every species has its own distinct traits, including grain patterns, flaws, and color, which contribute to its appeal. Here's a list of wood kitchen cabinet types explained briefly:
1. Cherry Wood Cabinet
For traditionalists, cherry wood cabinets are a must-have choice! Cherry is a sturdy and long-lasting wood, despite the fact that it is not officially a hardwood. The deep crimson hues of cherry cabinets set it apart. The hue, on the other hand, can range from pale yellow to dark brown.
Cherry has a consistent texture, random markings, and grain variations. With time and exposure to light, cherry wood darkens and develops a deep patina. Cherry is easy to varnish with a stain or paint because of its tight, uniform grain.
Most stains integrate nicely into the material, but deep mahogany and walnut tones work best.
2. Maple Wood Cabinet
If you're seeking the best wood for painted cabinets, go no further than maple! Maple cabinets are known for their long life, exquisite texture, and consistent grain. Maple's natural color ranges from light to creamy white, with crimson streaks that intensify with staining to provide character to each piece.
Various maple wood cabinets have different bird's eye spots, mineral streaks, and curling grain. The resilience of maple is ideal for modern kitchens that are used frequently.
Maple takes stains well and comes in a range of hues that bring out the natural beauty of the wood beneath.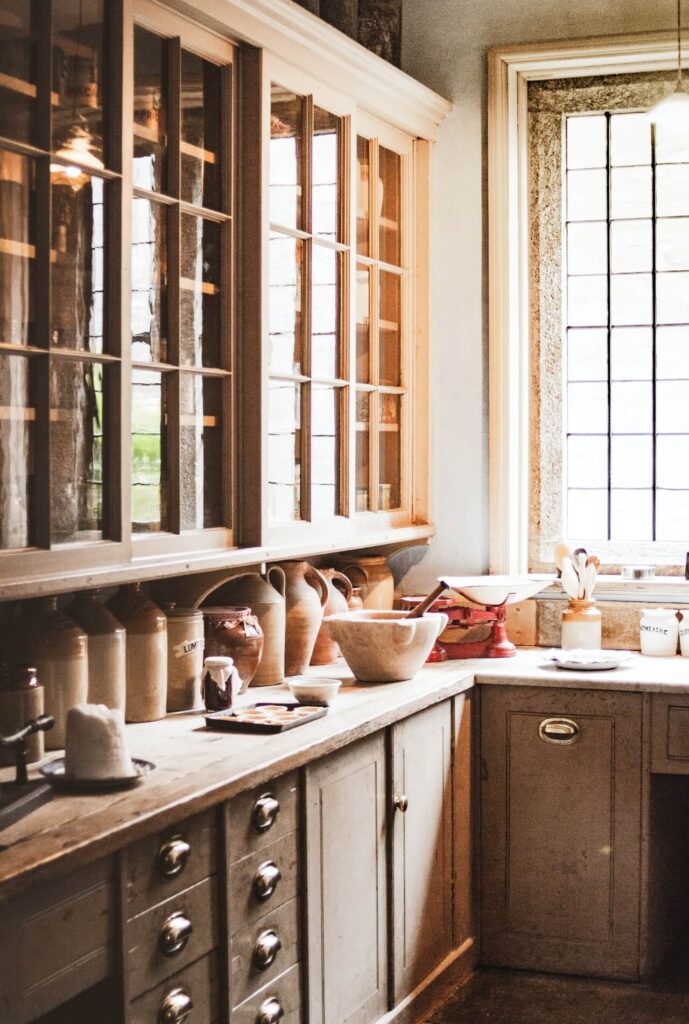 3. Oak Wood Cabinet
The most common lumber you'll encounter is normal oak, which is usually plain sawn or flat sawn. Quarter-sawn oak, on the other hand, has a beautiful straight grain pattern that lends itself to design. Quartersawn oak is characterized as wood with a 60 to 90-degree annular growth ring intersecting the board's face.
Of all the hardwoods, oak has one of the most distinctive grain patterns. It can be white to nearly pink in hue, with crimson overtones. Because of the minerals in the wood, oak can have green, yellow, and black streaks. Oak is a strong, open-grained wood with a prominent and distinct grain pattern depending on how it's cut.
Darker stains can be used to bring out the grain in oak cabinets, giving them a rich brown or black look.
4. Bamboo Wood Cabinet
These types of wood cabinets are an environmentally friendly alternative for cabinetry. Bamboo boards are manufactured from stalks chopped into strips and bonded together, unlike typical wooden cabinets, which are built from planks cut from big trees. Vertical graining is created by the strips' alignment.
The laminated surfaces of bamboo cabinets are exceptionally resistant to dents and chips. Bright hues give kitchens a light and airy feel. Bamboo cabinets are also resilient to temperature changes and do not expand or shrink as much as wood cabinets do.
5. Hickory Wood Cabinet
Another common wood for cabinets is hickory. It's not as prevalent as oak or maple due to the nature of the pricing range. It's known for its tenacity, outlasting other hardy trees including hard maple, oak, and ash. For this reason, hickory is a popular choice for flooring. If you want your cabinets to survive as long as possible, this is a terrific alternative.
It has a two-toned look with very contrasting tones of white and dark brown in terms of appearance. It has a distinctive grain pattern with pronounced striations and natural streaks. This unusual appearance is a bold choice that gives cabinets a lot of personality and character. You can easily prevent early wear of the finish by using drawer pulls and cabinet knobs with care.
6. Birch Wood Cabinet
Wood cabinets made of birchwood are less costly than those made of maple or other popular hardwoods. Birch cabinets are consistent in appearance and lack characteristic graining, making them easily stainable.
The closed, non-porous surface can readily be painted or matched with other ornamental treatments. Yellow birch is long-lasting and has high tensile strength, making it perfect for building. Birch may be varnished to look like mahogany, walnut, or maple, which are more expensive alternatives.
7. Pine Wood Cabinet
Pinewood cabinets are traditionally associated with cottages, but they may work well in contemporary kitchens when combined with modern hardware and worktops.
Pine is a popular softwood because of its eco-friendliness and low cost. Furthermore, the light-colored material absorbs both organic and darker stains. After staining, pine knots and graining are common.
Because pine absorbs liquids rapidly, you'll need to apply many layers of stain to achieve the desired finish.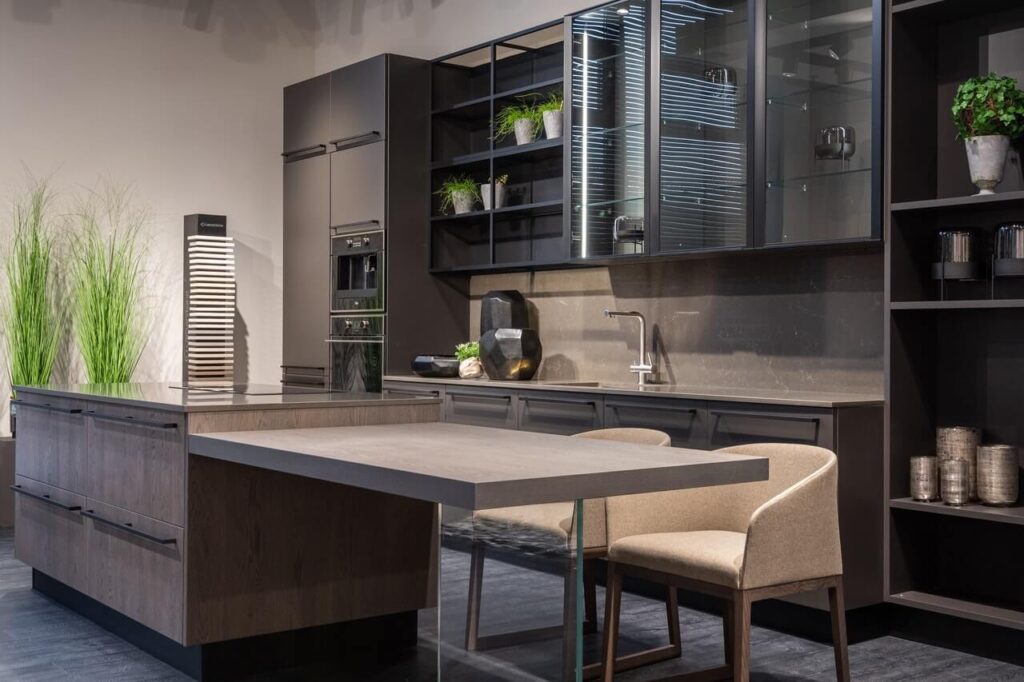 8. Pecan Wood Cabinet
If you really like blonde, white, red-brown, or deep brown wood, you'll probably enjoy pecan. You can't go wrong with pecan cabinets since the wood's excellent, distinctive hues are present in both the heartwood and sapwood. Pecan wood has a natural difference in color, which is one of the primary reasons why people choose it for their kitchen cabinets. Pecan may be utilized to build a beautiful bathroom vanity. Rugged pecan wood has a peculiar flowing grain pattern that some consider heavy. It's smooth, incredibly robust, and close-grained.
9. Walnut Wood Cabinet
Walnut is a high-end wood that isn't as widely available as some other types mentioned in this article. It's a lovely hardwood with a subtle dark brown color and reddish hues. Walnut comes in two colors: light and dark. You may either accentuate the material's inherent color diversity or go for a traditional and elegant dark finish, depending on the option you pick. It is not as hard as others of the species on this list in terms of strength and toughness. It's not as tough as red oak, but it's tougher than cherry. The expense of a walnut cabinet is a huge disadvantage because walnut is a high-end wood.