22 Modern Kitchen Cabinet Ideas in 2022
Modern kitchens and modern kitchen cabinets are a lot different from those of our grandmothers and mothers. Their kitchens were usually old country and the world, having apples galore and roosters. They sometimes contain a few elements and more of an unsophisticated feel. Warm wood is normally the texture found everywhere from floor to table to cabinet.
Kitchen cabinetry in the past was usually flush inset or framed. It had an antique or a glazed finish, with exposed hinges and raised doors. But in today's world, kitchen cabinetry has changed. Below are 10 modern kitchen cabinet ideas in 2022.
1. Strategic Lighting
Bubblegum light is a necessity in a kitchen. You need overhead and spotlights for washing, cooking, and preparing meals. However, to create a scene and showcase important elements of your kitchen, you need to place the mood lighting strategically. Thus, placing Strip lights in glass-paned kitchen cabinets can outline your kitchen, add drama, and provide muted lights.
2. Two-Tone Theme Kitchen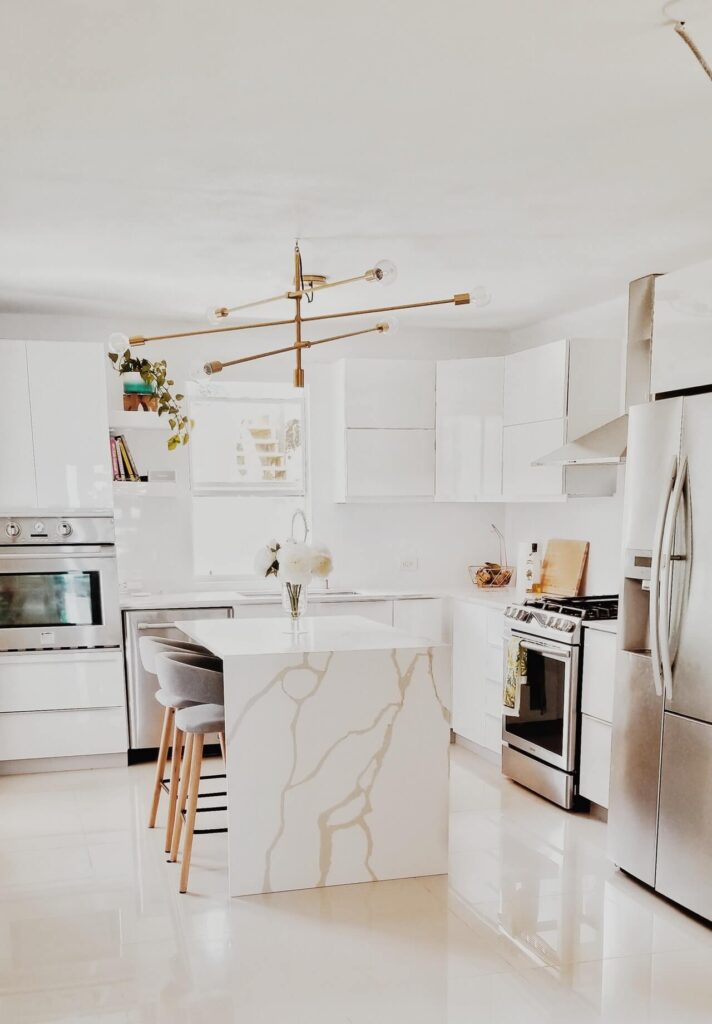 If you desire something unique in your kitchen, then you should opt for a two-tone theme kitchen cabinet. You don't have to leave your kitchen cabinet in a single color. You can design your modern kitchen to feature stark white cabinets on top of the counters, while the ones beneath are left in the shade of olive green.
3. Vertical Vision Kitchen
You could have a kitchen cabinet that has eight sliding doors and three shelves. You could do the design in such a way that doors will leave some part of the shelves uncovered, that way it will give the sliding room. This cabinet design will give you both enough storage space and show area.
4. A Window Seat
A window seat is certainly a romantic touch to any model kitchen. This innovative feature adds functionality and charm to the kitchen. You can build this window seat in between the kitchen cabinets. And it will provide an accessible and luxurious spot to relax or rest.
5. Decorated Shelves Kitchen
Want something that will add a magical touch to your kitchen? If you answered yes, go for dressed-up shelves with captivating designs and prints. In this type of modern kitchen cabinet idea, you can add striking and bright wallpaper inside the shelves or kitchen cabinets. You could also paint it any color that appeals to you if you prefer a custom design that will add pops of color to your modern kitchen.
6. Storage and Organiser Modern Kitchen Cabinet
If you wish to have a well-organized kitchen in 2022, then you should opt for storage and organizer kitchen cabinets. You can easily get your kitchen cluttered with a collection of utensils, serving implements, food preparation equipment, and cooking articles. However, this can leave your kitchen in a total mess. It can even make it uneasy for you to find things. It is best to create a specific space for each of your kitchen stuff. And a multi organizer and storage will take all your kitchen stuff without occupying much space.
7. Larder Arranger Kitchen Cabinet
Another 2022 modern kitchen cabinet idea is a larder arranger. With the larder arranger, you can free up space and keep your larder arranged. You will install the metal shelves in an inside panel found on the cabinet's doors. Say goodbye to a cluttered larder, spoiled and forgotten food items. And no more spending too much time searching for needed food items.
8. A Pull-Out Pot Rack Kitchen Cabinet
Tired of having your pots scattered all over your kitchen? If yes, opt for a pull-out pot rack. With pull-out pot racks, you can free up space and arrange cooking pots. The good thing about it is that you can easily install it in a single or more kitchen cabinets. By simply installing pull-out pot racks, your kitchen will be organized, and your cooking pots will also be protected from getting damaged.
9. Leather Novelty
Replace your old kitchen cabinet with an attractive and modern one. Leather novelty, dark blue modern kitchen cabinetry has leather handles. Its complementing shades of dark blue style and warm leather are beautiful and striking.
10. Produce Drawer Kitchen Cabinet Idea
Need extra storage? If you answered yes, then the produce drawer is exactly what you need. With a produce drawer, you can simply store produce that your fridge may not be able to take. It has to be safe enough to safeguard the product and keep it out of plain sight. It should also be ventilated to allow the produce breath. The best of all is that this produce drawer has sections to efficiently separate items.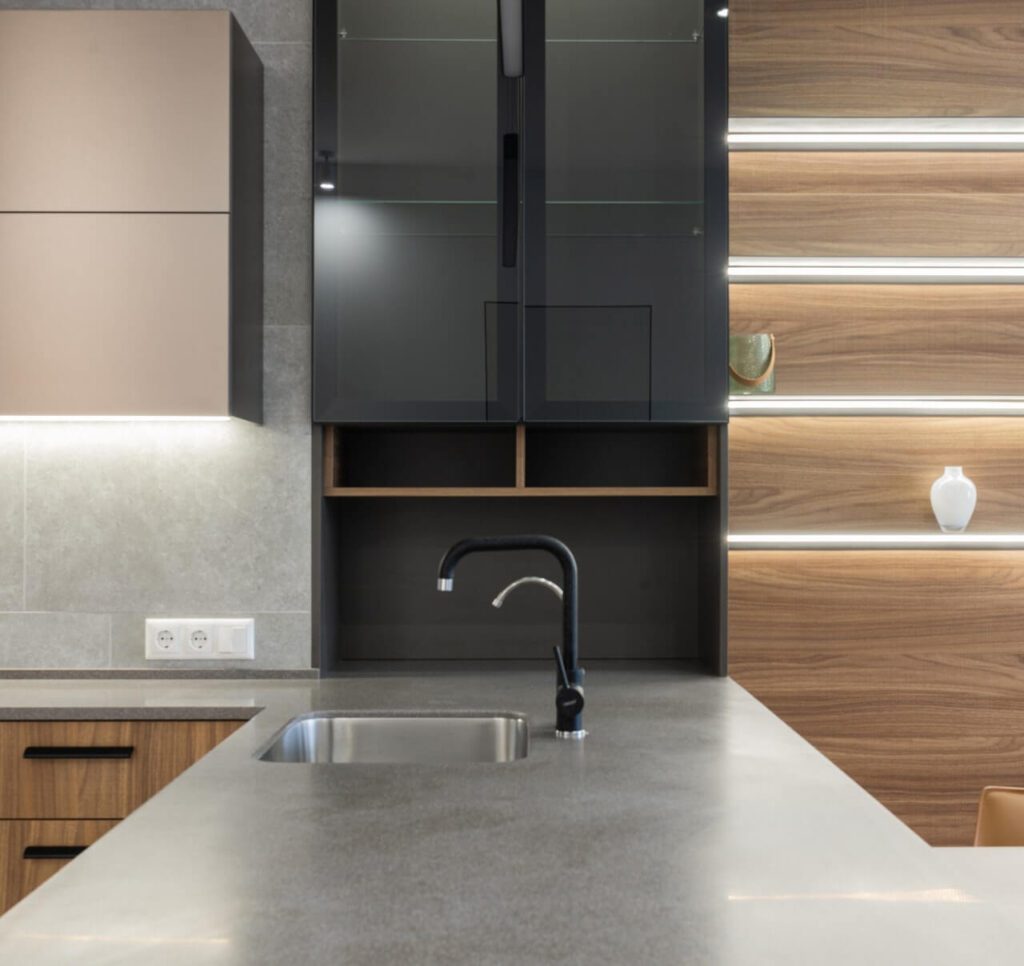 11. Glass Fronted Kitchen Cabinets
This is a world-class kitchen feature. This kitchen cabinet was improved from its former splashback and cement counter. Glass-fronted kitchen cabinets' blue-grey style of cement will give your kitchen design a modern and edgy appearance, while still keeping the kitchen cabinet stylish and classy.
12. Metallic Modern Kitchen Cabinets
Keep your kitchen modern, stunning, shiny, and sleek. Going metallic in your kitchen cabinet design in 2022 will certainly impress you. Most ultra-modern and metallic theme kitchen has granite countertops, stone flooring, counters, glass splashback, and brushed chrome-plated kitchen cabinets.
13. Swinging Shelves Kitchen
A smart kitchen cabinet idea to manage space and free up clutters in your kitchen. This creative kitchen cabinet adds swinging shelves inside the cabinets. With the swinging shelves, you can easily access items kept at the back of the kitchen cabinet. It also allows you to organize items and create more space for more items.
14. A Home Bar Kitchen
Give your kitchen cabinetry a finishing touch with a home bar part. A home bar is a minibar that features storage cabinets, display shelves, and a counter for getting ready. Home bar stylish nook has open shelves, black lower cabinets, and glass-fronted display racks having brushed metallic frames.
15. Spice Drawer Modern Kitchen Cabinet
If you are one of those people who love making their food at home, then you should ensure that you add a spice drawer to your storage system and kitchen cabinetry. With the spice drawer, you can put all your spice bottles in a place that is safe, organized, and accessible.
16. Copper Pulls Kitchen
Want attractive, trendy, and unique kitchen cabinets in 2022? Then you should consider going for the copper cabinet idea. Copper pulls give your kitchen drawers and cabinets an attractive and modern appearance. It will add to some of your kitchen cabinet's colors and elements. It is actually a simple improvement from tarnished handles. Copper Pulls will also inject a modern and fresh look into your kitchen overall look.
17. Attractive Walnut Modern Kitchen Cabinets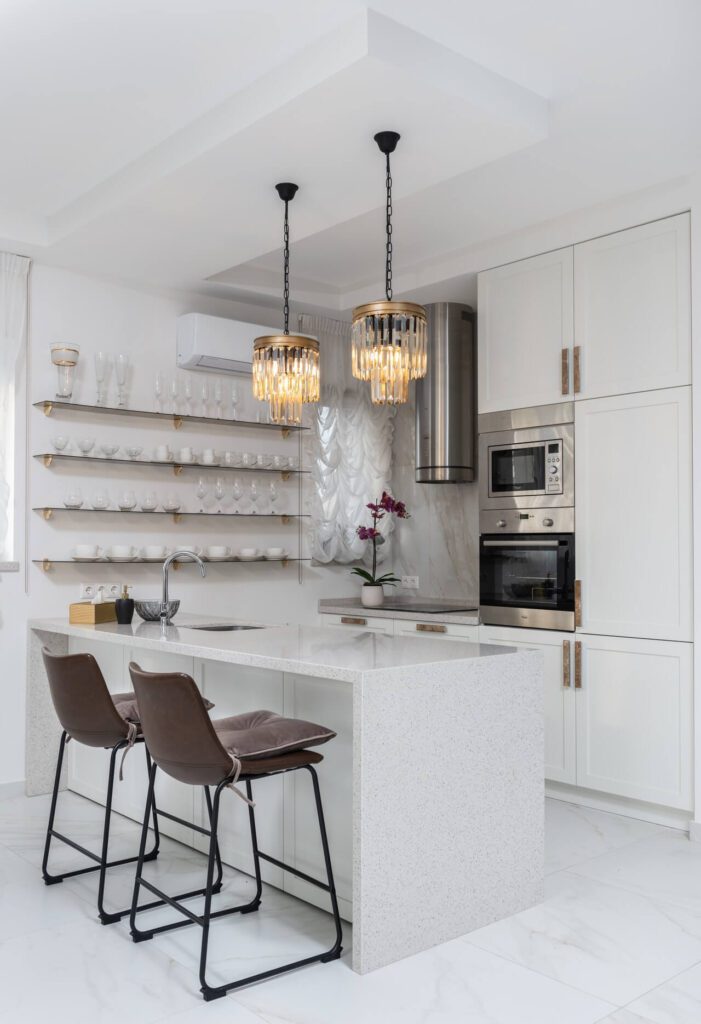 Your 2022 modern kitchen could be white spaces with attractive walnut cabinetry. walnut's attractive dark wood grains and patterns could also dominate your kitchen design. Two unique golden globe lights will contribute a tip of drama to your room.
18. Corner Shelves
Never waste your prime kitchen space. The corner on top of your kitchen counter is also the center for your kitchen's activities. You can simply install a few shelves to fully utilize them. This could take a couple of your regularly used items. It could also be a secure holding space for your cookbooks, smartphones, or any other thing that you may need in the kitchen.
19. The Cutting Board
Adding an efficient cutting board to your kitchen cabinetry in 2022 is yet an awesome idea. This kitchen cabinetry idea offers you a wide tabletop that you can use to meet your cutting needs. It has a hole that will allow cuttings to drop directly inside rubbish bins beneath it. You could also stow it away when you are not using it.
20. Lazy Susan Corner
Never let the space beneath your kitchen counter waste. This corner can be difficult to reach. This makes this corner always unused. But you can take advantage of this space by putting lazy Susan in that section. Lazy Susan will give you easy access to all items that you will ever place in the cabinet.
21. A Kitchen Charging Station
This is a smart idea to meet today's needs. A kitchen charging station that you could add to your kitchen's end will provide you accessible and safe space to charge and keep phones, tablets, laptops, and other devices. The cabinet has shelves for electronic devices and much power to charge them.
22. Sliding Doors and Shelves
This type of kitchen cabinet does not have doors. Rather than the regular hinge doors, the beautiful wooden kitchen cabinets have sliding panels that move across the storage shelves. This innovative idea gives an open spot for and easy access.
Conclusion
If you're looking forward to renovating or reconstructing your kitchen, cabinets are among the critical choices that you should consider. And in this article, we have explored the various modern kitchen cabinet ideas in 2022. So believe that you have all that you will require to make creative kitchen cabinet designs in 2022.