A whopping 90% of consumers stated they wished to spend more time at home after they renovated their kitchen cabinets. That's because kitchens are the focal point of any household. They are a social hub where people gather to create delicious food, lasting memories, and intimate connections.
If your kitchen is not conducive to your specific needs and lifestyle, then it might be time for an upgrade. Whether you're looking for a complete remodel or only a bit of sprucing up, kitchen cabinets are key players when it comes to a redesign. In fact, updating your current cabinetry can completely transform your kitchen.
Read on to find out how.
1. Organization and Storage
Custom kitchen cabinets utilize your existing space to maximize organization and storage. So whether you're working with a small galley-sized kitchen or a space that competes with your two-car garage, there are plenty of options.
Drawers
Drawers are one of the most efficient ways to organize your kitchen. One quick pull allows you to access anything you might need. They come in a variety of sizes and configurations, suitable for housing pretty much anything.
You might want a stack of three drawers with a bit of depth to house Tupperware or even plates and bowls. Four shallower drawers are ideal for cutlery, mixing spoons, spatulas, and other utensils you use on the go. Drawers allow you to see everything inside at once, making it easy to find exactly what you need.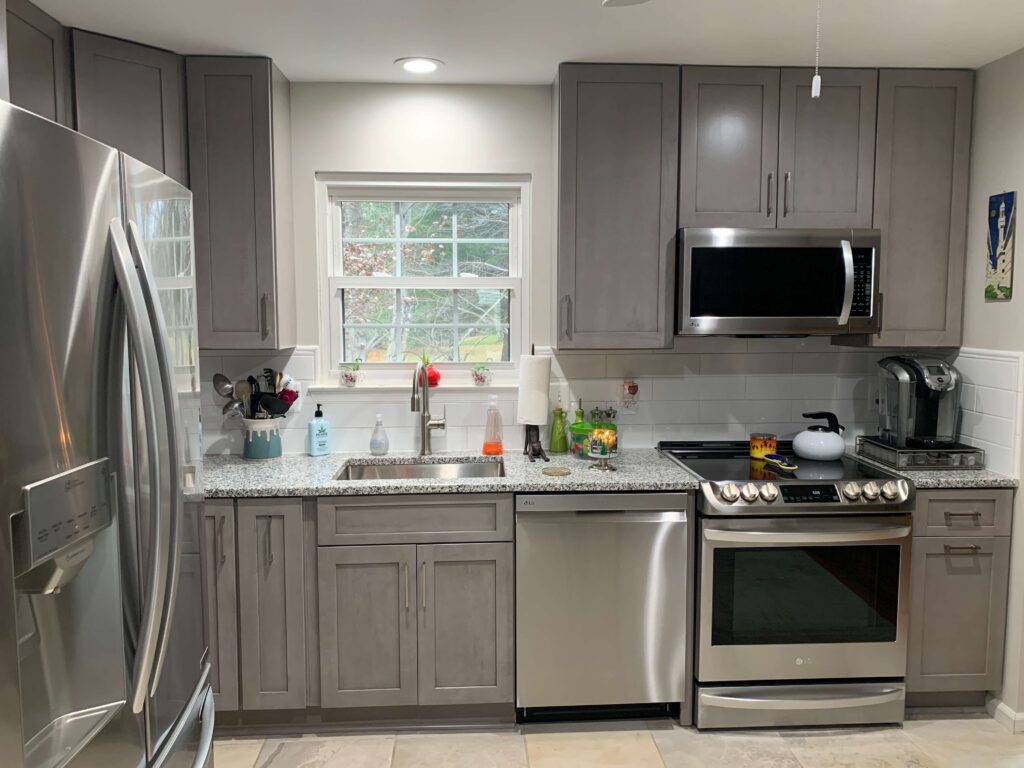 Sliding Shelves
Similar to drawers, sliding shelves are ideal for optimizing storage and visibility. They are especially useful in deep kitchen cabinets where items often get lost in the back. If you have difficulty lifting or reaching for things, sliding shelves are an ergonomic solution for you.
Trash Pull
Trash cans can be the eyesores of the kitchen. Their appearance attracts unnecessary attention, not to mention the off-putting smell. New kitchen cabinets can easily solve this design faux pas with a sliding trash pull.
Hiding your trash within your cabinetry helps minimize the smell and maximize space to move around your new kitchen. Soft-close mechanisms make them easy to access and eliminate the harsh bag that often accompanies a heavy drawer closing.
Most trash pulls can be sized to fit one or even two bins, so you'll even have plenty of space for all your recyclables.
Vertical Dividers
Incorporate these storage solutions inside your kitchen cabinets to organize large flat objects. Baking sheets, cutting boards, and cooling racks will be right at home and easy to find. Vertical dividers are great for maximizing difficult-to-reach spaces, such as above the refrigerator or in ceiling-high cabinets.
Spice Pull
Spices are a lot like dust bunnies. They have a habit of accumulating over time and before you know it, they are absolutely out of control. Adding a spice pull to your kitchen cabinet design will allow you to sort and organize your spices for optimal usability.
You won't have to waste time searching the depths of your cupboard anymore or risk buying something you already have. Add tiered shelves so that you can see everything at once and find exactly what you need when you need it.
Corner Storage
Poorly utilized corner storage is a reason in and of itself to invest in new kitchen cabinets. Take advantage of the extra space with one of the following smart design options.
Lazy Susan: This is one of the most efficient corner storage solutions. It normally consists of two carousels and can be housed in both base and upper wall cabinets.
Blind corner cabinet: These base cabinets allow access to storage hidden behind other base cabinets. They are available in different configurations and are most efficient when used with pull-out shelves.
Corner drawers: This storage option includes an L-shaped front that pulls out into the room much like a simple drawer. They are the option that provides the greatest visibility. However, they can be quite expensive.
Corner storage is a great place to hide away small appliances such as blenders and toasters that often take up much-needed counter space.
Other Considerations
When looking at new kitchen cabinets, don't forget to consider whether you want soffits or floor-to-ceiling cabinets. Full-length cabinets will provide additional storage but depending on your ceiling height, they can be difficult to reach and impractical.
Soffits are sometimes seen as the black hole of the kitchen. They are that little space between the cabinet and the ceiling that sort of just sits there. But if you add a bit of accent lighting, they can be a great space to highlight decorative dishware, vintage memorabilia, or even plants.
2. Kitchen Cabinet Customization and Functionality
Customization is one of the greatest parts of investing in new kitchen cabinetry. So before you get started, you should put some serious thought into what is going to work best for your unique cooking style and life.
Do you need lots of open countertop space for preparing elaborate meals? Or is having ample storage space a larger priority? If you like to do a lot of baking, consider a cabinetry design that leaves space for a double oven.
Selects cabinets with a lower height to accommodate a family member with mobility issues. Or if you're one of those people who is always having to stoop to use the countertop, they get custom kitchen cabinets that come up to meet you.
Think about how you want your kitchen to flow. What do you use the most and what storage options will allow you to access those items with ease? Choose a layout that will amplify functionality rather than inhibit it.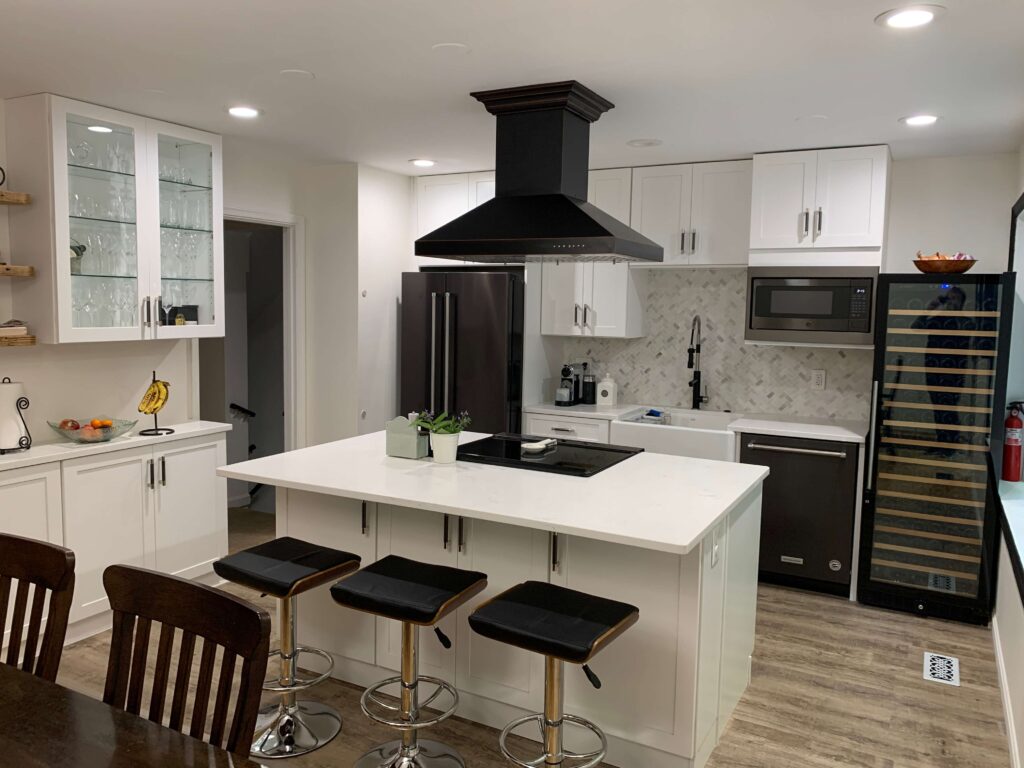 3. Show Off Your Style
Kitchen cabinets set the tone of your space. They are often visible from other rooms and either enhance the existing design or stick out like a sore thumb. Whether you have your own vision in mind or you need some kitchen redesign inspiration, the cabinetry you select should work cohesively with your existing decoration scheme.
Box
There are two main types of box styles: framed and frameless.
A framed cabinet has a wooden face that surrounds the door when closed. It provides a surface upon which you can attach door hardware and comes in lots of different styles, widths, and colors.
Frameless cabinets lack a wooden face, which provides a uniform exterior. It's important to note that since the door hardware attaches directly to the box, frameless kitchen cabinets sometimes require stability reinforcements.
Door Style
Doors are the most visible feature of your kitchen cabinets and have the greatest effect on the kitchen's overall appearance and tone.
Flat-panel: This style of kitchen cabinet is great if you are looking for a modern kitchen design.
Mission: With its simple frame and recessed panel, mission-style cabinetry is perfect for creating a classic look.
Shaker: This type of cabinet is similar to mission doors but includes additional detailing to add character.
Raised Panel: This style is commonly used for stock option cabinetry. It has a beveled center that comes out until it is flush with the frame.
Beaded: For those seeking a traditional or country-style kitchen, the beadboard paneling found in beaded doors is the option for you.
Cathedral: These are similar to mission-style doors, but the recessed panel includes an arched top rather than a standard flat shape.
Glass: If highlighting your dishware is important to you, consider getting cabinet doors that include a glass panel.
When selecting a door style you should think about the longevity of the design. The last thing you want is to spend money on something that quickly feels outdated or overbearing.
Kitchen Cabinet Color and Finishes
Once you've settled on a door style, you'll need to choose the material you want to use. Although wood is the most common choice, kitchen cabinetry is also available in laminates, thermal foil, stainless steel melamine, and more.
If you do stick with wooden cabinetry, the type of wood you select will contribute to the overall feel of your kitchen. For a more contemporary style, a finer-grained wood such as ash is a suitable option.
Oak is commonly used in country-style kitchens due to its durable and rustic appearance. Maple's naturally light hues provide the perfect base for various color stains whereas deeper stains work well to bring out the rich red tone's found in cherry.
Birch is another great option. It has a very distinct grain that is complementary for kitchens with a classic, modern, or custom aesthetic.
Your stain or paint choice should complement the other colors used in your kitchens, such as countertops and backsplashes. If you're not really sure what color to pick, white kitchen cabinets are always a great option. They create a classic look that goes well with pretty much every design scheme.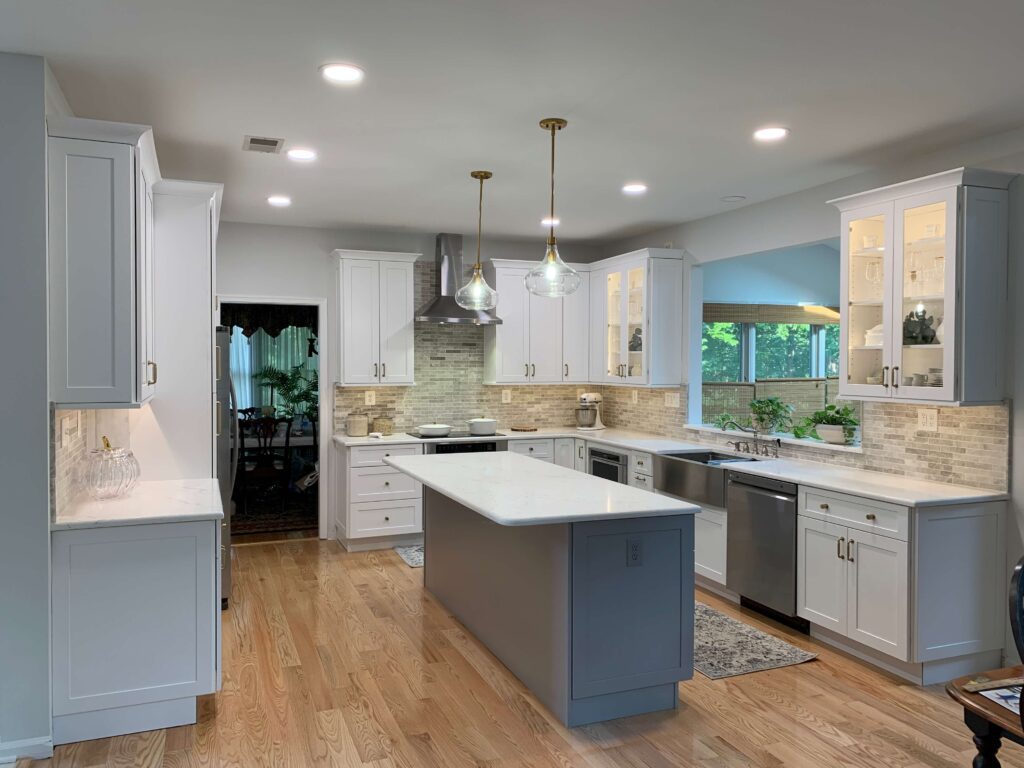 Hardware and Accents
Finishing touches will enhance the look of your kitchen cabinetry. Utilize cabinet hardware to accent different tones found in the wood or tie in with the finish on your appliances.
You might want to include plinths that run along the base of your cabinets or cornices on the upper edges. These features will give your kitchen a cleaner and more finished appearance.
4. Quality With New Kitchen Cabinets
When you invest in high-quality kitchen cabinets, you can bask in the knowledge that your kitchen is built to last. You don't have to think twice about placing a few more heavy cans on your custom-made shelves. And you know that everything works to maximize the functionality of the space.
But before you dive too deep into dreaming about how great your new kitchen is going to look and feel. You should consider one thing. How much are kitchen cabinets going to cost?
Low Range
Prefabricated cabinets can be found at most home improvement centers. To cut costs, stock cabinets are made with pressboards rather than real wood. This means that they are less durable and more prone to water damage and warping over time.
Stock cabinets have limited customization when it comes to both storage solutions and design. Going with this cookie-cutter option will cost around $70 per foot.
When purchasing stock cabinetry, it can also be difficult to determine the source of the materials. If utilizing eco-friendly and sustainably sourced products in your kitchen remodel is a top priority, low-range cabinetry is not the option for you.
Mid-Range
Mid-range cabinets are essentially better-looking low-range cabinets. You'll still be dealing with limited storage customization, but you'll have more color, style, and accessory options. These kitchen cabinets will cost you around $100 per foot.
Although it might be tempting to buy something cheap that looks good, you should also consider the durability of your choice. You don't want to be going through another remodel in a few years' time because your kitchen cabinets couldn't withstand the wear and tear of everyday life.
Premium Kitchen Cabinets
Custom kitchen cabinets are quite a bit more than stock models, starting at around $500 per foot. However, they come with the highest level of customization and are made with the care and precision that comes with expert craftsmanship. They are also made with real wood and other high-quality materials that can be easily tracked to their source.
5. Increase Home Value
Who wants to move after they've created a customized cooking space with beautiful new kitchen cabinets and accent features? I wouldn't. However, if you do decide to sell your home, having an updated kitchen is an excellent selling point for buyers.
According to the National Association of REALTORS® Remodeling Impact Report, kitchen remodels and upgrades rank highest for buyer appeal and home resale value compared to other home renovations. It allows them to imagine their own family living there and creating lasting memories and great-tasting food.
Transform the Heart of Your Home
Your kitchen should fill you with feelings of warmth and joy, and work with your unique lifestyle. New kitchen cabinets can transform your current kitchen by creating an organized and functional space. As the cornerstone of any kitchen design, they show off your style and add to the overall flow of your home. 
Contact Us for More Information