Sleek Modern Kitchen Design Ideas For Endless Versatility
What do most people do when they remodel their homes after either moving in or living there for a few years? They remodel kitchens, bathrooms, and the entire house if the need arises. However, the kitchen remains one of the key spaces to upgrade when remodeling your home. While some go for a traditional approach, we try to focus on the modern kitchen approach.
Some people will consider do-it-yourself methods, while others may prefer hiring experts. When upgrading your kitchen, it is essential to hire experts in that field. This ensures you get a modern kitchen that meets your wants, needs, and design ideas.
The intent is to create functional, calming spaces, clean and open kitchen, and experts will deliver. More so, designers will give you beautiful furniture to create the perfect modern kitchen with all modernity benefits. With that, here are some modern kitchen design ideas.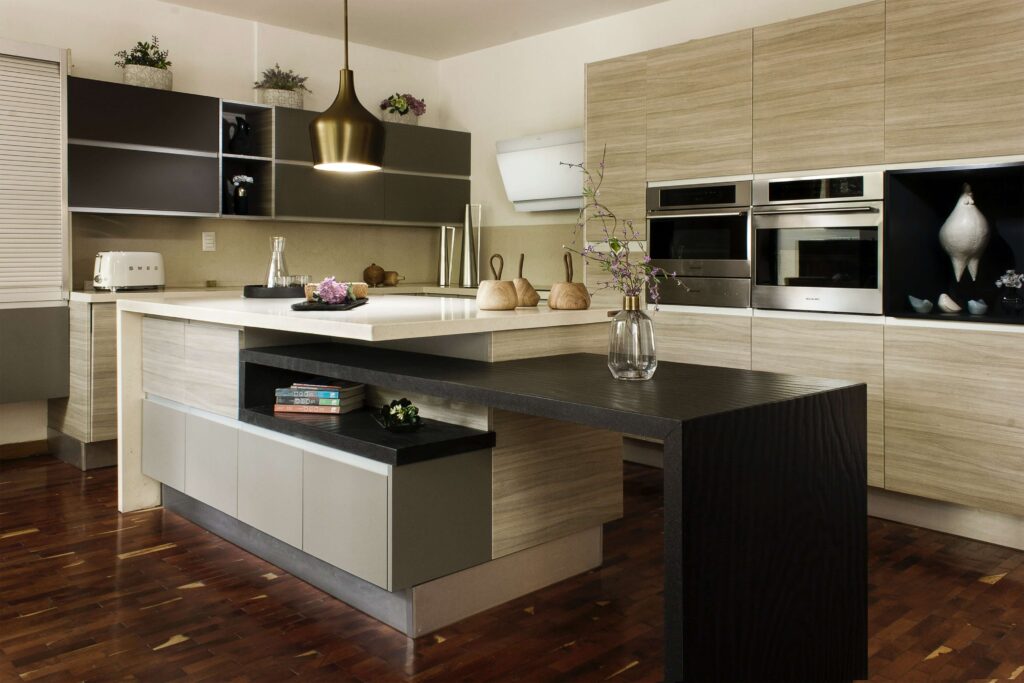 Stainless Steel Gold Finishes
Most homeowners engage in a kitchen remodel process while focusing on a specific material. If you are among them, having a stainless steel kitchen with a gold finish gives you a unique taste. This is one of the most common modern kitchen ideas trending today.
Create an edgy, high-shine gold look to deliver a mirrored island in your kitchen. The gold-mirrored surface delivers glamour to the entire kitchen. Besides, adding few touches of pink marble swirls and cobalt blue lift rails on top makes it even better.
Integrate more features such as a built-in planter and pendant light handing from above. The golden colour, coupled with cobalt blue, gives your kitchen a unique appearance. The pendant light also boosts its look for a more modernized kitchen.
More Lighting Features
Modern kitchens look amazing, with well-lit features that make them functional and clean. Hence, adding a taste of clean lines, simple colour patterns, and adequate lighting is critical. The motive is to feature striking colours that stand out and make your kitchen well-lit.
Incorporating graphic fixtures is another way to let more light into your kitchen. Experts also recommend including furniture with bright colors if you need more lighting in your kitchen. The features enable you to have a modern kitchen that lets more light pour into these spaces.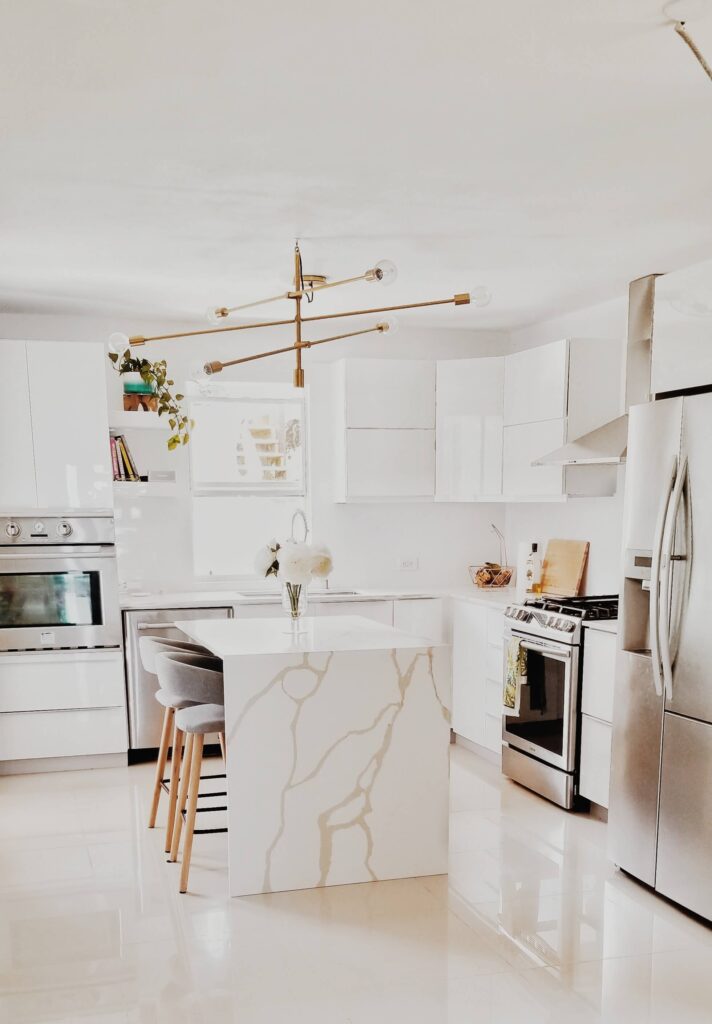 Monochromatic And Moody Setting
A kitchen remodel may also revolve around a sense of warm touch across different areas in this space. Warm-up your kitchen with chocolate stone surfaces to give it a unique appearance. This approach ensures you create a lovely kitchen, unlike traditional ones.
Have a smooth and uniform transition between surfaces essential for a soothing visual effect. Such a monochromatic set-up gives kitchens a perfect look, especially those with little natural light. That is because it brings a cosy effect in the kitchen for a modern look.
The same chocolate stone surfaces combine better with various kitchen furniture. Having a few chocolate-coloured kitchen appliances makes it even more beautiful. It is a great way to transform your dull and traditional kitchen into a single and modern space in your property.
Modern But Fun Kitchen
Those who love to spend more time at home can make the kitchen fun and exciting but modernized at the same time. You are free to create a vibrant and geometric kitchen that deliver am individual sense of ownership. Make it a bit playful with freakish details and kitchen products.
Start with a few classic art decors and with today's kitchen appliances. Place these items in specific locations within your kitchen. Nonetheless, ensure you never compromise the kitchen's functionality. Consulting a designer can guide you on the best ways to make your kitchen fun but modern.
Blend To The Background
You may have a kitchen remodel that makes your kitchen seem disappearing. Most kitchens nowadays remain exposed and connected with the dining room. Others are in close vicinity and seen from the dining room. You can design your kitchen and make it disappearing or unseen from these spaces.
Create a kitchen that is hardware-free of any kitchen cabinet and combine it with a silky white color. With a white-colored background, your kitchen will blend and disappear. Integrate comely baby pink cane seats and a silver marble table to bring life into your kitchen.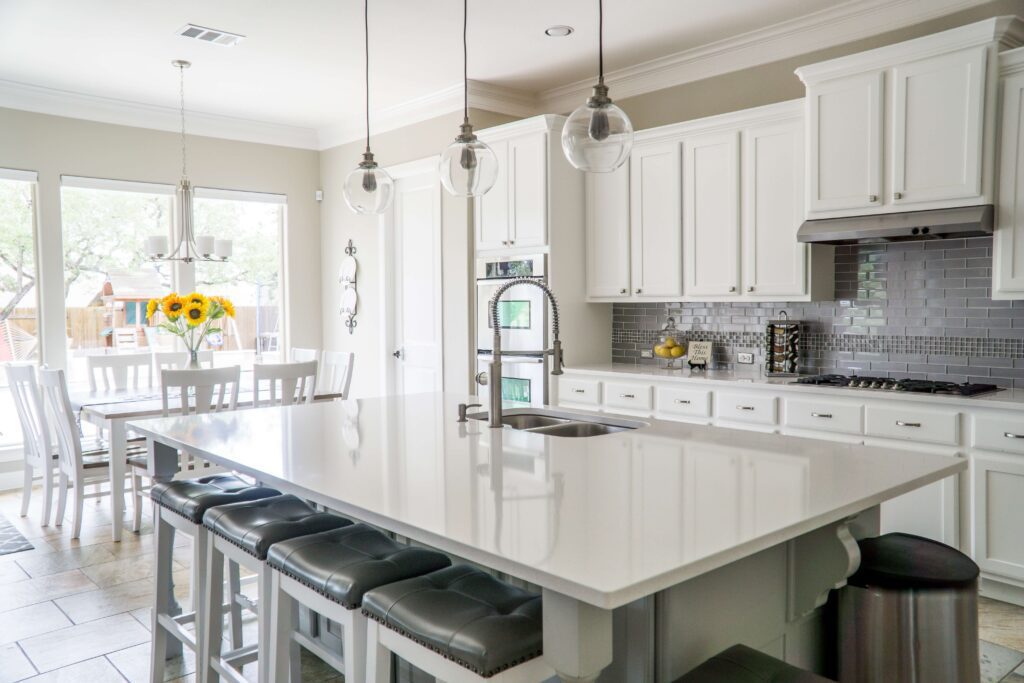 Polished Understated Concrete Modern Kitchen Edges
Concrete floors are excellent features that can make your kitchen stand out with modern amenities. This modern kitchen idea focuses on the edges, which are other vital elements of these spaces. They are great substitutes for classic hardwood panels and pleasant colourful tiles.
Get sleek grittiness concrete which is well-polished for a welcoming surprise. More so, it provides a light fixture that makes it earn more point regarding modernizing your kitchen. Polishing kitchen edges with concrete also makes it durable and astounding.
At times, most homeowners consider polished concrete edges a fresher look to both the kitchen and bathroom. Though it is understated, it remains great for those who need to remodel their kitchens.
Strategic and Modern Kitchen Layout
Some people have small kitchens, which can be quite tricky to organize and make it modern. However, you need to strategize and create a layout perfect for cooking. If you have multiple kitchen products, you can have a layout that accommodates them all.
Create some space between cabinets and the ceiling, including the understated bar stools. Transition your kitchen to your dining-living area to decongest small-spaced kitchens. In turn, this creates more space to make your kitchen modern by introducing the latest kitchen features.
Modern countertops surfaces that extend to the cabinets and the walls gives it a better boost in making it more modern. The design allows you to have a perfect intrigue kitchen, which can be a significant upgrade from your previous look.
Pops Of Colour
If you have a single white colour in your kitchen, you can add a bit of another colour. That is, you may have a white-coloured kitchen with white vessels, kitchen appliances, countertops, walls and more. Then, add pops of colours on specific items.
This can either be flowers, vases or serving ware that carry a different colour, for instance, red, blue or green, based on your preference. These pops give your kitchen a unique appearance that upgrades your kitchen. You can also consider upcycling soup cans for decorating your kitchen with new colours.
Play With Design And Scale
Kitchen remodel can become quite expensive and confusing at the same time. Choosing the right design to upgrade your home from the living room to the kitchen is quite hard. So, the best practice can be to play with different possible designs. Yet, never experiment.
You need to streamline your modern design by creating sufficient lighting fixture. Typically, lighting is critical in any modern kitchen. This is because it provides a chance to try various designs and learn the scale of your kitchen remodelling approach.
Cluster a pair of cylindrical, long and narrow pendant lights to begin with. This alone creates a better opportunity to get the formality of your kitchen. Besides, it limits homeowners from considering classic pendant lights than island fixtures. Play with various positions to learn particular kitchen upgrade options.
Quirky Interior Windows Kitchen Styling
Homeowners with quirky interior windows can adopt such features and facilitate their kitchen remodelling process. Such windows are often available in old flat structures to promote airflow. Embracing this design can help you make your kitchen incredibly stylish and look intentional.
Let more natural light enter your kitchen through these windows, which adding up more features. Get cut-to-size plexiglass to give your kitchen a better boost. Incorporate more modern features such as paints and glass-made kitchen utensils.
Texture-Rich Plaster Walls
Most homeowners may think a kitchen remodel requires complicated processes. However, there exist straightforward approaches to upgrade your kitchen. If you have an all-white dimensional and depth kitchen, consider text-rich plaster walls to modernize your kitchen.
Add a statement light to pour light into your kitchen and a wooden cabinet to complete your modern kitchen design. It is a simple practice that gives your kitchen an entirely new look. Primarily, it makes it modern and upgradable hassle-free.
Modern Kitchen Interior Glass Design
It can become difficult to distinguish between open and closed floor plans at times. Such habits also apply to kitchens, but you can alleviate them using an interior glass design in this case. Frame your kitchen with partial interior windows.
Using these windows allows your kitchen to spread the light to different areas within your kitchen space. Again, rooms separating it tends to get an equal supply of light. Interior glass wall designs also facilitate transitioning of this space from other rooms.
Exposed Floating Shelves
Those with a collection of tableware, ceramic kitchen essentials, and glassware can display them on open kitchen shelves. Display everything on different shelves because it also helps to upscale your kitchen appearance. This is one way to engage in remodeling your kitchen.
Lean a few small-sized frames artwork over the shelves to present the actual gallery aesthetic in your collection. Have these display shelves stand situated in open spaces. That is, where they are visible to anyone who enters or sees the kitchen from other positions.
Several modern kitchen design style ideas exist suitable for different homeowners looking to upgrade these spaces. Yet, it is essential to consider professional help whenever you are planning to remodel your kitchen. For more information, contact us today to learn more.
Contact Us for More Information