Top 10 Kitchen Remodel Design Ideas for 2021 – Designers Reveled
The kitchen is the heart of the home. Its layout and design can tell a lot about how you and your family live and interact in it. In recent years, kitchens have been undergoing a lot of change in terms of design and function. Kitchen remodeling is one of the most popular home improvement projects today. Most of these very functional part of a house is full of new materials, appliances, and hardware. This allows homeowners to maximize their cooking space while adding a touch of style. The designers adding more furniture to their kitchen and the way they utilize the space is changing with it. With the ever-evolving trend in kitchen remodel, here are some top 10 kitchen remodel design ideas for 2021:
Innovate your kitchen with Technology
The kitchen needs to be more than just a place to cook and eat. It should be a fun and inviting place to be in the evening and all throughout the day. Technology can fit into the kitchen and help it function well. You can add smart equipment to your kitchen for more convenience. Like the touchless water tap which has a sensor technology. This allows you to turn on and off the tap by just waving your hands under it and minimize contamination. There are also stainless sinks with a unique ledge design. This makes you prepare and clean up everything without having to get up. You will surely love cooking with a Wi-Fi-connected stainless-steel cooking range. It allows you to control it with voice commands and also boasts a touch screen.
With the help of emerging technologies, you can experiment and enjoy more high-end appliances in your kitchen.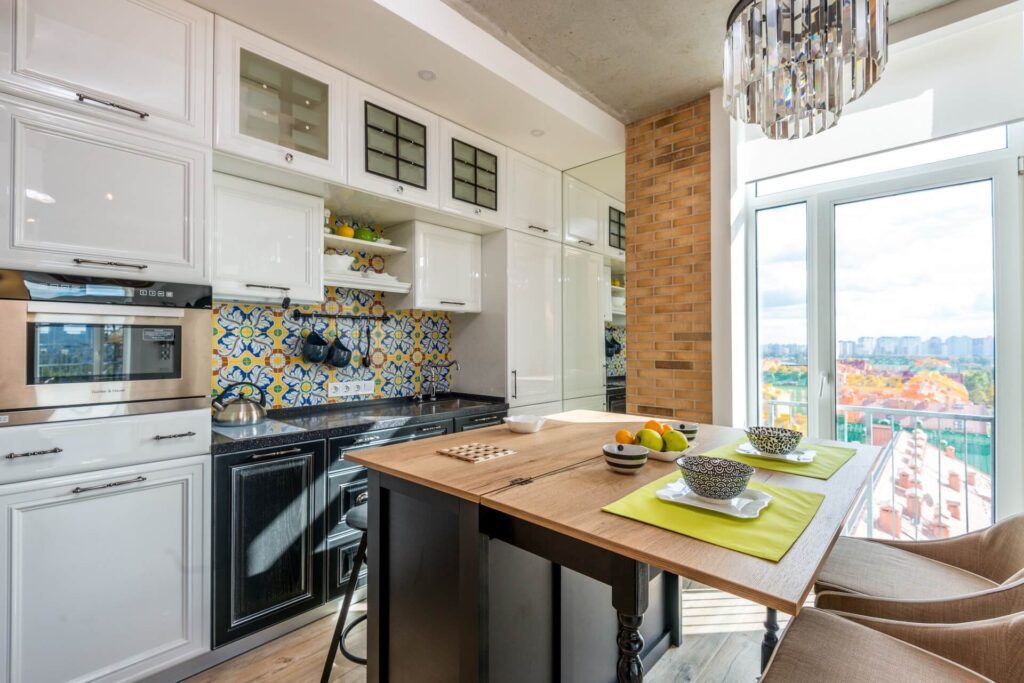 Open Kitchen Design with Large Island
Many homeowners consider Open floor plans as modern and stylish, so renovators often choose them to remodel kitchen. These open kitchen designs are becoming more and more popular in today's contemporary homes. The open concept allows engaging the space as one continuous space without walls or dividing walls. This creates an inviting, lively atmosphere for entertaining family and friends. You can create visual interest by wrapping the island in decorative tile. Or adding upper cabinets that are flush with the countertop.
Kitchen Cabinet Colors
A warm color scheme in your kitchen will give the space a more comfortable, cozy feeling. The right theme can make us feel cheerful and happy. Like enjoying a cup of tea with friends or cooking delicious food for our family members. It takes more than just picking out the perfect color scheme to create a warm and welcoming ambiance. The smallest details should be considered as well. Such as choosing cabinets that complement your space and giving them a unique touch to show your own personality.
To achieve this goal, you can utilize warm colors in three different ways. Paint the walls in a light-neutral tone and add wood or stone accents in dark tones. You can also paint the walls with light to medium tones and add cool accent pieces. Or paint the walls with darker tones to create a warmer environment.
Dark kitchen cabinets are also all the rage nowadays, and for good reason. They create a bold but sophisticated look that can really tie together an entire room. Dark colors tend to recede into the background. This makes them perfect for rooms where you don't want your eye drawn to one particular surface or object. This is especially important in kitchens since you want your attention focused on your food instead of your countertop!
Backsplash Alignment
Kitchens have been around for a long time in their traditional format. But alternatives are available if you want something different from the norm. Aesthetic and design are two key elements when it comes to the kitchen. It is a place where we spend most of our time. So why not give it a beautiful, well-designed look that will never get boring?
There are many new materials and techniques becoming available in the market which you can use for kitchen improvement. You can add different textures and colors to making it more appealing than ever before. A kitchen with streamlined designs and textures can help you achieve an elegant feel. Materials such as glass and metal are becoming more popular every day will make your kitchen chicer. The most important thing to keep in mind is functionality. You'll find that the right combination of light, material, and finish helps create a sense of calmness.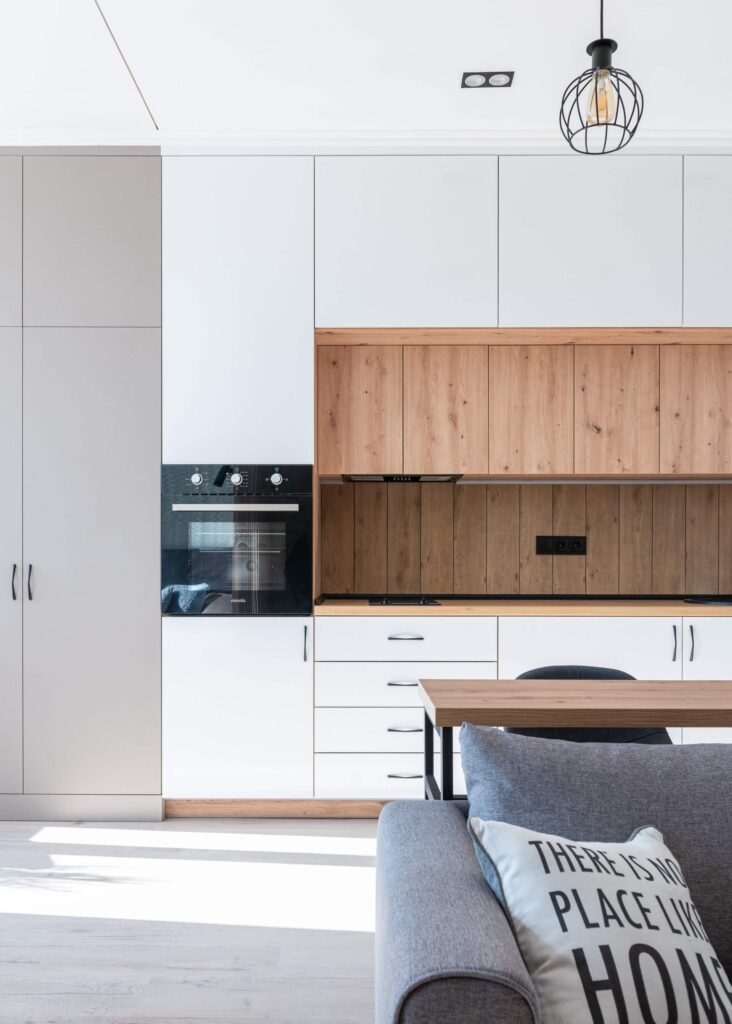 Add some artwork to your kitchen
Kitchens can be a source of both joy and frustration. Whether it's cooking or cleaning, the kitchen is one of the busiest rooms in most homes. In order to keep things organized and looking neat, you will need functional art for your walls. This also adds a bit of character to the space.
A home's kitchen reflects the style and lifestyle of its inhabitants. So, it makes sense to customize with artwork that truly represents your interests.
Efficient Kitchen Storage Cabinetry
Storage solutions for the kitchen can be a challenge. You want to keep things as clean and uncluttered as possible. But if you have a lot of kitchen devices, there needs to be someplace to put them! There are good storage solutions for the kitchen that can give an organized and professional look at a low cost. One such solution is the DIY Pot Rack.
The storage cabinets are the fundamental part of any kitchen. They can be used in different ways to keep your kitchen organized and functional. Like using small spaces like under the countertops which would otherwise go unused if not for cleverly designed kitchen accessories.
Connect your kitchen with nature
Is your kitchen looking a bit drab and boring? If you're thinking of sprucing it up but aren't sure where to begin, why not start with the windows and doors? Kitchen design and outdoor design work hand in hand to bring the feel of nature into your kitchen. The key is creating a visual and physical connection between the two. So that you can enjoy your garden or yard from inside as well as out.
If you have an outdoor patio or deck attached to your kitchen, connect the two spaces by using simple elements. Installing a glass door and connect it to the outdoor can easily revitalize a kitchen. Glass is great for both aesthetic appeal and practicality. It lets light into the room which makes it feel lighter and more spacious than if they were solid doors or walls.
Customized Exhaust Hood
When it comes to kitchen remodeling, the exhaust hood is one of the most vital parts. Why? It's all about safety. A decorative kitchen exhaust hood will not only make your kitchen look stunningly beautiful. But it will also remove smoke and odors from your food. You can create a wonderful focal point in your kitchen by incorporating this component into your layouts.
You can use a decorative kitchen exhaust hood to ventilate the kitchen, but it can also be a beautiful piece of art. It can also serve as an accent for your kitchen cabinetry. Especially if you are working with wood or metal cabinets.
Organic Design Kitchen
The style of kitchen that people are planning to have in their house varies from one person to the next. Some favor the modernity and sophistication of a sleek, clean-cut kitchen. Others prefer the rusticity and coziness of an organic-style kitchen. Organic kitchens use materials that are eco-friendly and biodegradable. They can be made using natural products like wood, clay, or even metal. This makes them very different from their modern counterparts.
Kitchens with organic style are becoming more common in modern home design. This is no surprise when you consider the movement toward natural materials and eco-friendly appliances. Even though they are trendy, it doesn't mean that they are not practical.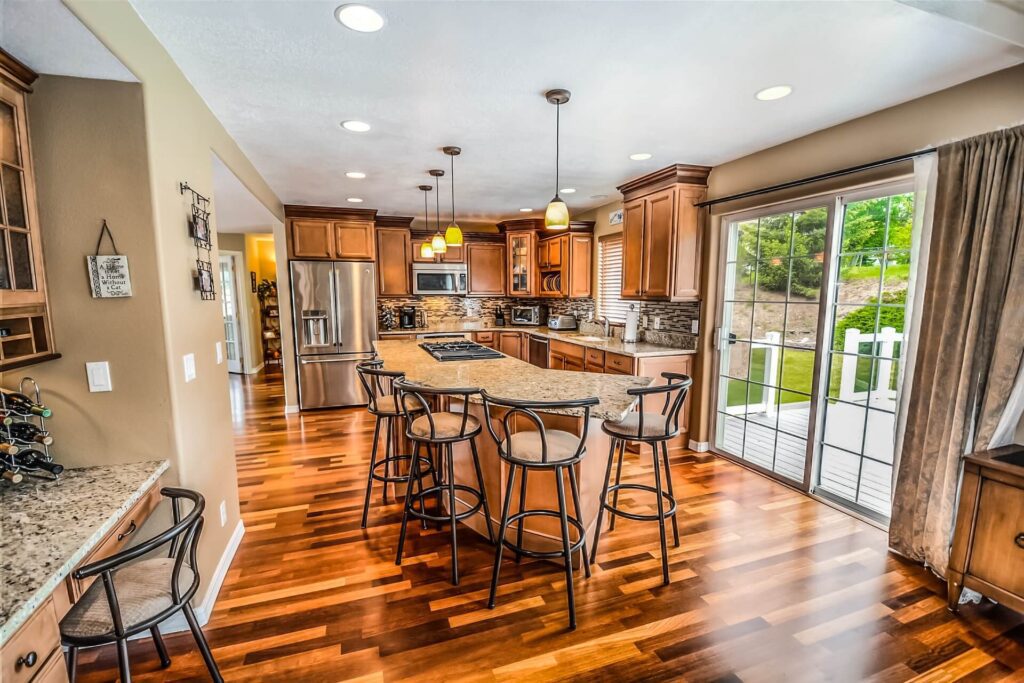 Kitchen Flooring Options: Hardwood and Ceramic
When it comes to flooring options, choosing the right one for your home is important. It is essential to create a look that's modern and functional. When it comes to your kitchen, you want something that will not only look great but last a long time. There are many types of kitchen floors that will last for years. And offer benefits like easy maintenance or water resistance.
Hardwood and ceramic flooring can both withstand heavy wear and tear while adding beauty and style to your home. Wood floors are available in a variety of finishes, from classic light oak to rich walnut or gray stained concrete. Ceramic tile looks good with any designs scheme. Choose from glossy white subway tile for a clean, contemporary look. Or get more subtle with matte colorful porcelain tiles. A lot of homeowners these days are opting for ceramic tile in their kitchens because of its beauty and durability.
Quartz: Hot Trend for Countertops
One of the most important considerations in building a home is having a kitchen that you can enjoy. The focal point of any home, kitchens are often the site for many family meals and gatherings. It's crucial to consider your kitchen countertop carefully before making a final decision on which type of material to choose. Kitchen countertops come in several materials including natural stone, granite composite stone, solid surface materials, and more!
Quartz, one of the most versatile and popular choices for kitchen countertops has great benefits that suit your needs. The color of quartz ranges from clear or white to grey, pink, red, or black. Depending on its iron content that gives a more stylish look to your kitchen.
How much does it cost to remodel kitchen?
Kitchen remodeling is a huge job, which needs to be done with care and in the right way. It consumes much of your time, energy, and money. The cost of kitchen remodel is a question that many homeowners face. The price of a kitchen remodeling project varies greatly. Depending on the size and type of changes that are needed in the room. For example, a complete remodel will be much more expensive than simply updating a few key elements. To get an idea about kitchen remodels costs, you need to consider certain things.
How big is your kitchen?
What are the quality standards you are looking for?
How many people are going to use this kitchen?
Conclusion
There are many reasons to remodel your kitchen. Many of which include adding value, increasing the efficiency of the kitchen space, or mostly for personal enjoyment.
But you can't really talk about kitchen remodeling without talking about hygiene and cleanliness. It's the final aspect of preparing your healthy meals that can make or break your entire cooking experience. It is easy to agree that the kitchen is the most important room in the house. And making a kitchen a point of pride requires a lot of forethought and attention to detail.