Do you want to give your bathroom a makeover but not sure where to start? Of course, you are. That's why you're here! We have 15 stunningly beautiful bathroom remodel ideas that will get you inspired!
Whether you're looking to do a complete bathroom renovation or make a few minor upgrades, you'll find something on our list perfect for your space. Keep reading to turn that general idea of yours into something specific and stylish.
1. All Black Powder Room
Dare to go dark with your bathroom remodeling and paint your powder room black. Black has a bad reputation for looking goth when it can also be elegant and classic.
For an elegant and classic look, add a few touches of color with some beautiful art. Gold frames and gold hardware would also look great against the black walls.
2. White Modern Bathroom Idea
For a crisp and fresh-looking bathroom, all white is the way to go. For a modern feel, stick with clean lines and a few organic touches.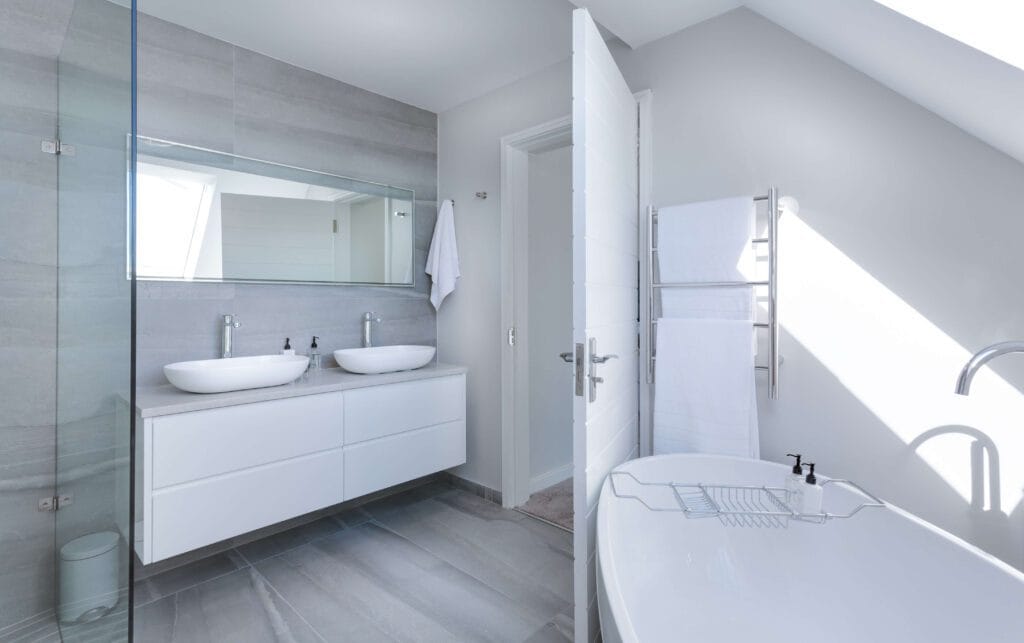 3. Brass Hardware
Brass is in trend right now because it adds warmth and color to just about any space. It also never goes out of style, making it one of our timeless bathroom remodel ideas.
4. Tiny Bath with Walk-In Shower
Just because your bathroom is tiny doesn't mean you can't have a walk-in shower. One of the current trending bathroom remodel ideas right now is wet-room style bathrooms.
This wet-room style design puts the toilet inside the shower area, saving you tons of space. This design is perfect if you've been looking for bathroom remodel ideas for a guest bathroom that currently doesn't have a shower.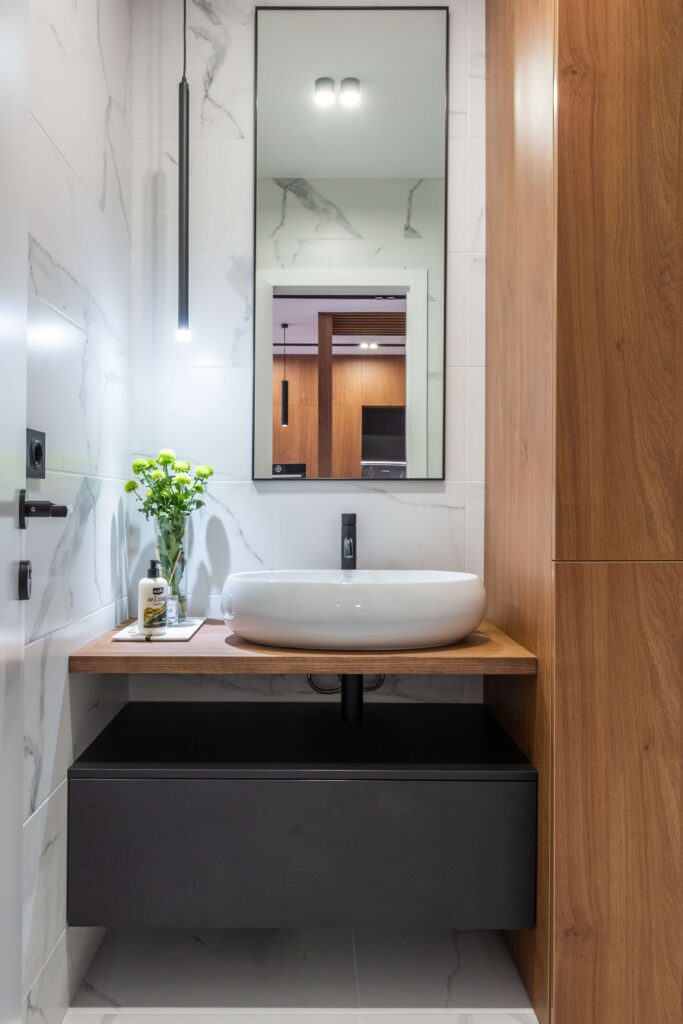 5. Minimal Spa Bathroom
Achieve that zen-look of a spa in your own bathroom by adding a freestanding tub, lots of open space, and natural elements like teak or bamboo. If you have a shower, pebble tiling on the floor, or even just a decorative pebble strip on the wall, is a great way to add texture to your design.
6. Waterfall-Style Walk-In Shower
One of our favorite bathroom remodel designs that will instantly transport you to a tropical rainforest is a waterfall-style walk-in shower.
Who hasn't dreamed of showering under a refreshing waterfall? With a waterfall shower, you'll feel like you have your own personal grotto or maybe even your own private island!
7. Honeycomb Tile
Looking for a simple yet fun bathroom remodel ideas? Try honeycomb tiling! This is the perfect bathroom renovation idea if you thought of switching up your current tiles but wanted something with more personality. Honeycomb tile is also great for narrow spaces because it helps make a room look wider.
8. Rustic Minimalism
A bathroom makeover doesn't have to be extravagant to look great. Sometimes, simple is better! If you love minimalism but also love rustic designs, know that you can have both.
The key to rustic minimalism is the least amount of decor as possible, focusing on natural elements. Concrete flooring, an open wood vanity, and even a frameless mirror would help achieve the bare-bones style.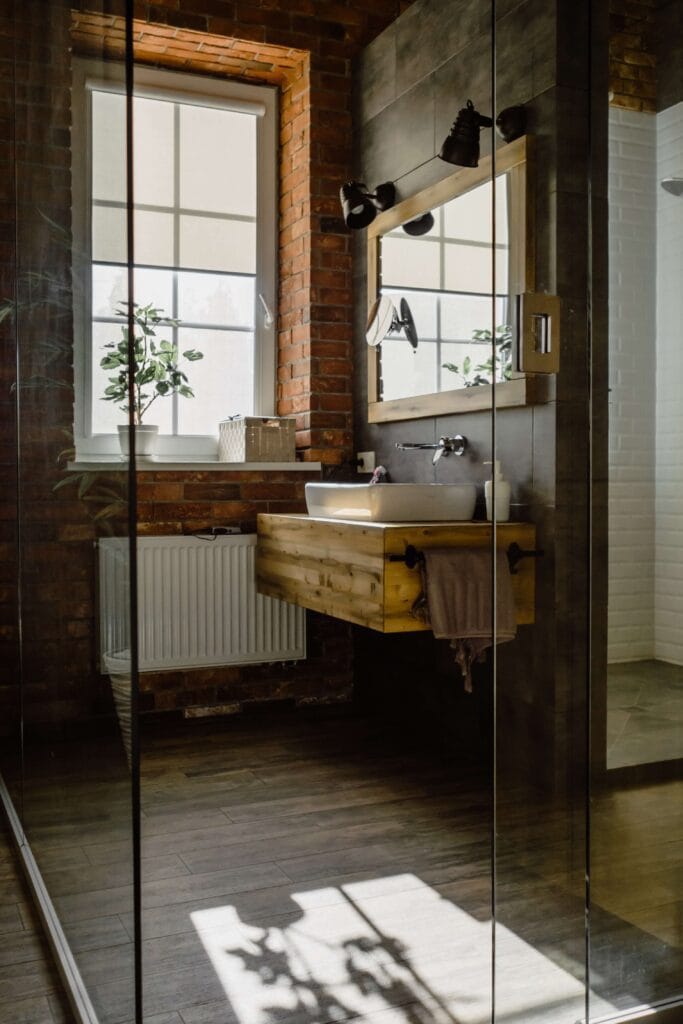 9. Maximized Self-Storage
If you need more storage space, why not make the most out of your bathroom? Incorporate added storage shelves into your bathroom renovation, so all you have to do is reach up when you need to grab a towel after a relaxing soak in the bath.
10. Chic Industrial
When most people think of industrial design, they often think of masculine elements, but industrial doesn't have to mean manly!
To achieve a chic industrial design, stick with sleek black and white details. Add contrast with industrial elements like hardwood flooring and exposed plumbing.
11. Mediterranean Style
One of our most classic ideas for a bathroom remodel is going for a Mediterranean-style bathroom. You can do so much to achieve the Mediterranean look, whether it's sconce lighting, a concrete sink, or even a tarnished decorative mirror hanging on the walls. You can even try adding fun mosaic or patterned tiles.
12. Sleek and Contemporary
If minimal is your style, try going sleek and contemporary. Slate tile, a tankless toilet, and modern vases are all elements to consider for nailing that contemporary look.
Another way to get that minimalist look is by using a floating vanity with little to no hardware.
13. Bold Wallpaper
A fantastic way to make the most out of a small space is bold wallpaper. To avoid going overboard, be sure to keep the bold wallpaper on one wall only. Be sure to also keep the rest of the room neutral so nothing competes against your wallpaper of choice.
14. Vintage Industrial
Vintage and industrial are a match made in design heaven. Exposed lightbulbs and copper piping are both nods to the industrial concept, while dark wallpaper and tile scream vintage.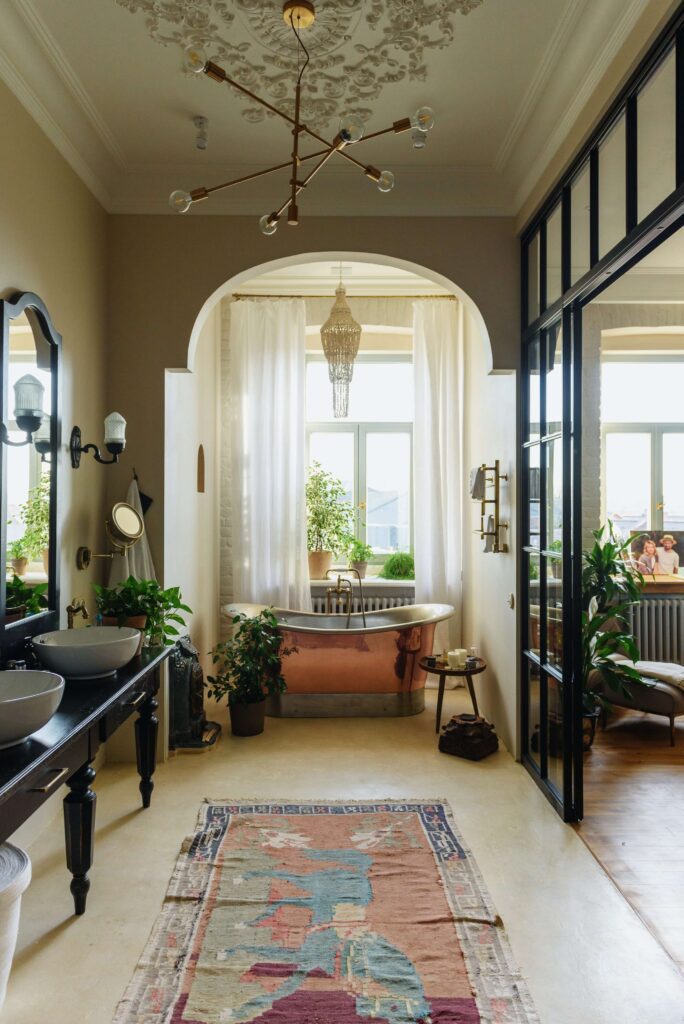 15. French Door Walk-In Shower
If you're looking for something different and something unique, try adding french doors to your walk-in shower. French-style doors in walk-in showers help fight off the claustrophobic effect with a unique twist.
Look for french glass doors with framing in a dark color like black for an elegant and classic look that will go with just about any decor.
Bathroom Remodel Ideas
We hope our 15 stunningly beautiful bathroom remodel ideas got you inspired! We hope you found something on this list you would love to see in your own bathroom, from fun honeycomb tiles to an all-black powder room to bold wallpaper.
Whether you're looking to do a complete bathroom renovation or make a few adjustments, contact us, and we'll help you start your project! We're looking forward to working with you!
Contact Us for More Information