If you'd like to revamp your kitchen in 2021 and looking to get some ideas then you're in the right place, we gathered the top 10 trending kitchen design ideas in 2021 for you. Have a look at trending kitchen design ideas to help you come up with your desired layout.
Reasons For Changing Your Kitchen Layout
As time goes by, you may start to like your kitchen's layout less for any number of reasons. These include:
1. Getting tired of your old decor
Perhaps when you moved in, you didn't have much of a choice on how your kitchen would look. However, once you're in a position to do something about it, then you probably should. That will help you feel more at home than you realize.
2. Wanting to keep up with trends
If you like following trends then this may inspire you to switch things up in your kitchen. There are plenty of new fads that come about as more designers aim to create layouts to suit people's varied tastes.
3. Needing more space
Looking for a new kitchen design may be as a result of needing more space as your family grows. Some layouts make it difficult to organize essentials for both large and small households. However, with things like new storage options ideal for small kitchen design ideas, you may find that your kitchen has the right amount of space.
4. Remodeling the kitchen
Maybe you've always wanted a different layout for your kitchen. So, you choose to break down a few walls or extend the exterior of the house to increase the available space. Remodeling the kitchen may even be aimed at an attempt to create an open kitchen layout which may help your kitchen look bigger.
Whatever your reasons for wanting to change things up, there are plenty of kitchen design ideas to suit your tastes. This is something you'll start to realize once you fully set your mind to creating that change.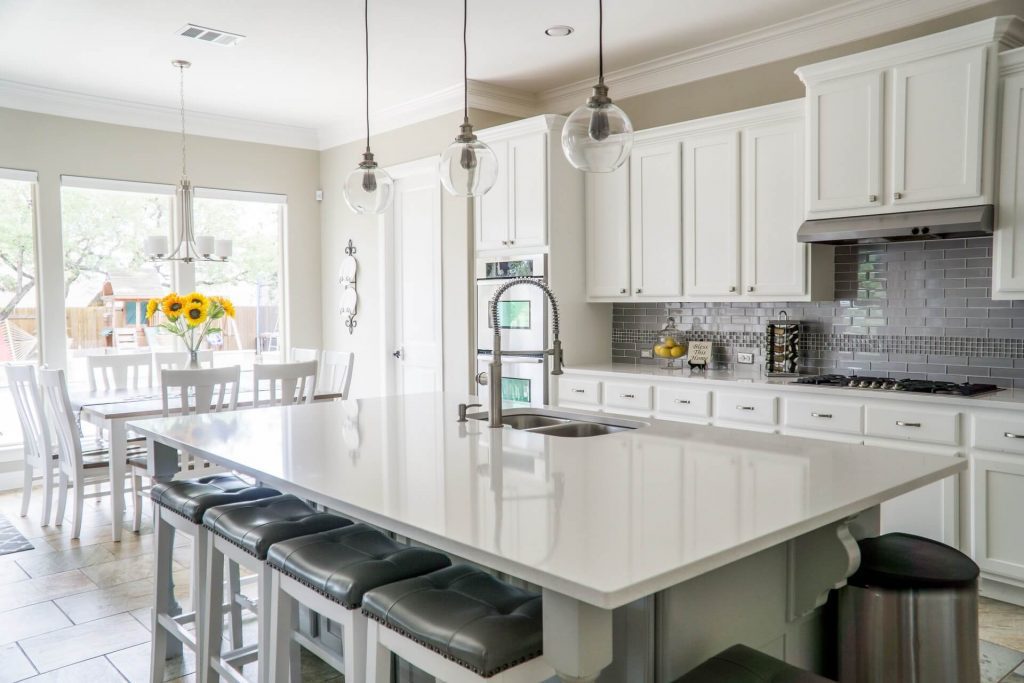 How To Get Started
Revamping your kitchen can either be a big job or a small job. It all depends on several factors, some of which we'll outline for you. That's because, for some people, a makeover means getting everything changed. For others, it's simply switching out select items or surfaces for newer or fashionably dated options.
Decide On Your Budget
Be sure to get started by deciding on your budget first. Working with a budget means your kitchen makeover will cost exactly or less than what you're willing to spend. Without a budget, you can easily overspend, which may lead to deficits in other important expenses.
Once you have a number in mind, you can then figure out how much of a difference you can make. You'll also be in a position to know whether you can hire someone to do the job or if you'll embark on a DIY project.
Have A Layout In Mind
Whenever you're thinking of changing your kitchen, ask yourself what you want most. If you'd like a complete overhaul, then that means you already know you have enough money to support that change. However, if you've got limited resources to spare, then you can only make a few changes.
Create An Ideas List
Once you know how much you can spend and what you'd like to change, then you can start window-shopping. The reason for window-shopping first is so that you get the best prices for quality items. Keep in mind that the price of an item or material isn't a guarantee of quality.
For everything you like, note it down. When you're done window-shopping, you can then get input from a professional decorator on which items should make the cut. Their decision will be based on the layout you'd like. Having a list will make it easier for them to quickly get started on your redecorating journey.
10 Fantastic Kitchen Design Ideas
The changes you can make to liven up your kitchen are plenty. So, since we can't list all of them, we've created a list of the trending ones this year. That way, you also don't need to browse through an exhausting list to help you get kitchen design ideas.
Black Layouts
In case you're a fan of neutral colours, then try having a black kitchen. This works especially well for rooms that have plenty of natural light coming in during the day to keep it well lit. Also, by placing the right contrasts throughout the room, like on countertops and cupboard fixtures, your kitchen can still appear bright but in a classy way.
A great example of this is having stark white marble countertops and gold or silver hooks, cupboard handles, sinks, and faucet fixtures.
Open Shelves
In most kitchens, you'll come across upper cupboards lining the walls. However, to make your kitchen seem more spacious, consider switching to open shelves instead. These are worth considering when you need kitchen cabinet design ideas.
Open shelves help to create a minimalist look to your kitchen's layout, thanks to the basic design of a shelf. And regardless of the colour of your kitchen walls, you can choose to go with wooden colour tones. These will still create a stylish look without taking attention away from the rest of the room.
Terracotta Floor Tiles
Whether you currently have marble floors, wooden laminate, or some other flooring option, changing it can make a world of difference. A good example of this is terracotta tiles. This type of ceramic flooring will give your kitchen a rustic look that is also durable.
You can have them either rough or smooth, depending on your preference. However, if you're not looking to change them soon, consider purchasing glazed terracotta tiles that have an anti-slip finish. These are well protected to withstand wear and tear.
Use Wallpaper
If your kitchen walls are what you'd like to change, then consider making that change using wallpapers. There are plenty of wallpaper options out there, ranging from plain colours to geometric patterns and even floral prints.
Another reason to go for wallpapers is you can turn your kitchen design plan into a DIY project. That's because installation doesn't require a professional.
A Colourful Island
You'll come across several kitchen island design ideas to spruce up your kitchen. An example of this is having a colourful island. This can be achieved in different ways.
One option is to change the colour of the cupboards and drawers. In doing so, they'll contrast to your kitchen's other cupboards and drawers, making the island stand out. Another option is to select a different countertop colour for the island to achieve the same effect.
Rustic Layouts
Rustic furniture pieces have a way of making certain spaces homier. If this is something that appeals to you then go for it. Add rustic elements like reclaimed wood pillars throughout the kitchen, wooden beams along the ceiling, or even wood panelled floors.
You can also enhance your kitchen by having an exposed wood breakfast bar with matching seats.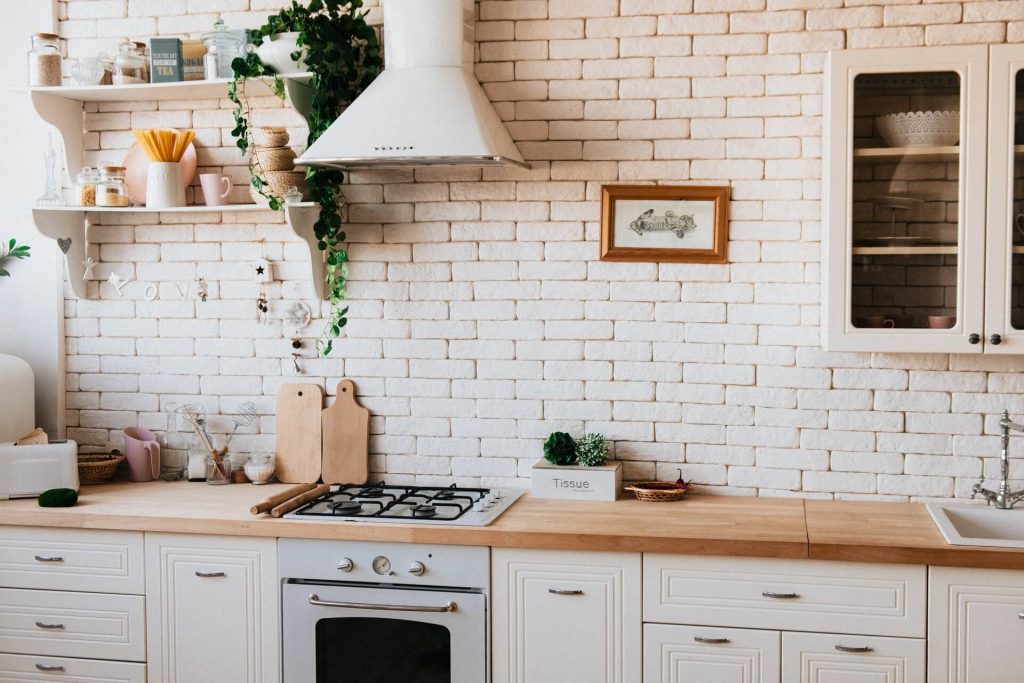 Add A Larder
While looking at kitchen cabinet design ideas, consider adding a larder. Rather than having all your food items out on the counter before you use them, a larder creates a tailored space for this purpose.
Besides being used to house the food items you're about to prepare, a large larder can also serve as a pantry.
Get A Double Island
Something that's making waves now as far as kitchen island design ideas go is having a double island. The double island can be fashioned in various layouts, ensuring you have adequate countertop space in your kitchen.
Although most people would think this would work best in a large kitchen, it can also work in a smaller kitchen. You can have part of the island function as a breakfast bar as well.
Contrast The Ceiling Colour
If you'd like to revamp your kitchen without spending too much, you can. Rather than thinking of adding more furniture to your kitchen, simply opt to change the colour of the ceiling.
A great way to do this is by picking colors that contrast with your kitchen layout. So, for instance, if you have yellow cabinets and countertops, then you can make your ceiling black.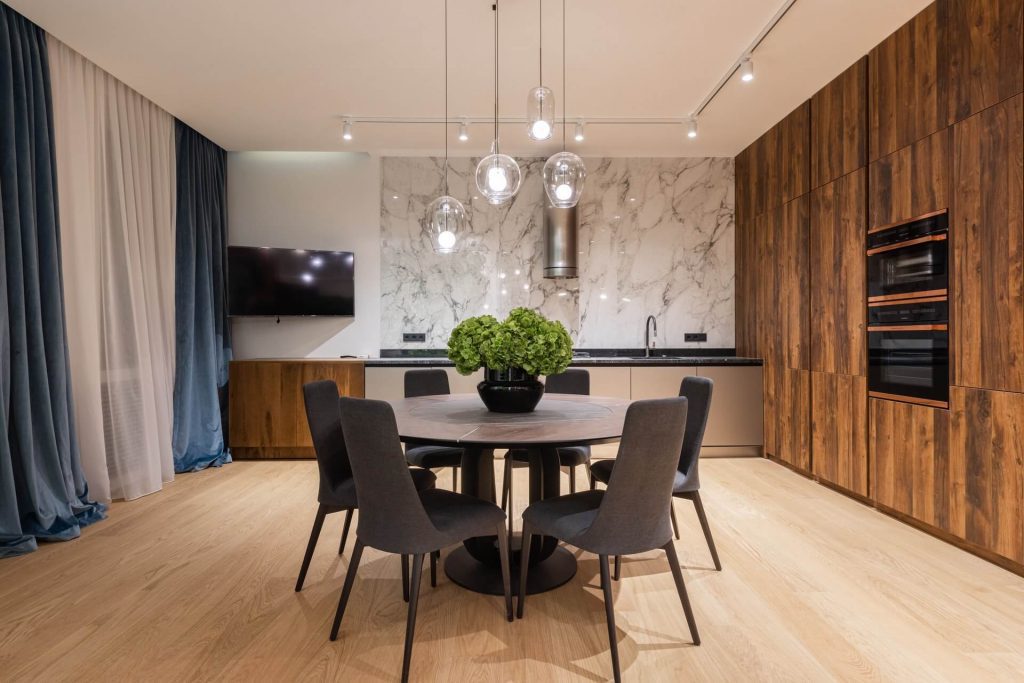 Hide Your Appliances
If you like minimalist kitchen layouts, then this is an option that's sure to work well for you. That's whether you need big or small kitchen design ideas.
To hide your kitchen appliances, you'd need to create auxiliary storage spaces for things like your fridge, dishwasher, freezer, or even your microwave. These make it seem like you're sliding your appliances out of the walls when you need them. You can also add cabinet doors in front of them to achieve the same look.
Another way to achieve this effect is to buy colourful appliances that blend in with your kitchen cupboards and surfaces. Nowadays, several appliance brands create uniquely coloured appliances. So if you have a blue kitchen, you can get a cooker with a blue oven door that matches your layout.
In Summary of our Kitchen Design Ideas Guide
Redecorating can seem like a simple process at first. But to ensure you have peace of mind from the beginning to the end, follow through on the steps we've outlined. These help to ensure you're happy all through the process of enhancing your kitchen's layout.